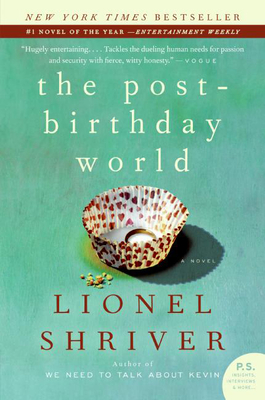 The Post-Birthday World (Paperback)
A Novel
Harper Perennial, 9780061187896, 544pp.
Publication Date: February 26, 2008
* Individual store prices may vary.
Description
American children's book illustrator Irina McGovern enjoys a secure, settled life in London with her smart, loyal, disciplined partner, Lawrence—until the night she finds herself inexplicably drawn to kissing another man, a passionate, extravagant, top-ranked snooker player. Two competing alternate futures hinge on this single kiss, as Irina's decision—to surrender to temptation or to preserve her seemingly safe partnership with Lawrence—will have momentous consequences for her career, her friendships and familial relationships, and the texture of her daily life.
About the Author
Lionel Shriver's novels include The New Republic, So Much for That, The Post-Birthday World, and the international bestseller We Need to Talk About Kevin. Her journalism has appeared in The Guardian, the New York Times, the Wall Street Journal, and many other publications.
Praise For The Post-Birthday World: A Novel…
"Original and involving...convincing and beautifully told. Highly recommended."
— Library Journal

"Daring [and] dazzling."
— More Magazine

"Hugely entertaining…tackles the dueling human needs for passion and security with fierce, witty honesty."
— Vogue

"Shriver writes with elegance and a loaded intensity...she is a brilliant, witty storyteller and the book is utterly compelling."
— Weekend Australian

"[A] tour de force in literary structure and mastery of language...engrossing."
— Sunday Telegraph (Australia)

"Provocative...stunningly intense."
— New York Daily News

"Provocative….The Post-Birthday World is…as unflinching as they come."
— New York Times

"...unique..."
— South-East Advertiser (Australia)

"Witty, formidably bright author…Lively parts…"
— Denver Rocky Mountain News

"Shriver has a gift for creating real and complicated characters and putting them in less-than-simple situations…Highly engrossing novel…"
— San Francisco Chronicle

"...hot..."
— Time magazine

"...candid..."
— Entertainment Weekly

"...fascinating..."
— Christian Science Monitor

"Shriver writes with much intelligence and wryness....The twofold nature of the plot...makes for enlightening reading."
— Irish Times

"The Post-Birthday World is a...radical book."
— The Scotsman

"This is a compulsive, clever, wise and witty novel."
— The Times (London)

"Compelling...ingenious...inspired."
— The Evening Standard (London)

"...enjoyable..."
— Sunday Times (London)

"Shriver is very obviously a perceptive observer and clever chronicler of the human condition, in all its messy, unresolved glory."
— The Nelson Mail (New Zealand)

"Shriver is a terrific, intelligent writer."
— Bookseller (London)

"Ingenious...delightful...[Shriver] has produced a novel that's equal parts entertainment and psychological massage."
— Philadelphia Inquirer

"Ingenious....there is an impressive freshness in her treatment. The writing is intelligent, the characterisation thoughtful, the insights into love, sex and snooker sharp. After her acclaimed 2003 novel, We Need To Talk About Kevin, Shriver confirms her reputation as an original talent."
— Mail on Sunday

"Shriver's an extraordinary writer. Her perceptiveness of male-female relationships is unsettling, dangerous, familiar and voyeuristic. [The Post-Birthday World is] impossible to put down."
— Daily Telegraph (Australia

"Extraordinary...Before it was co-opted and trivialized by chick lit, romantic love was a subject that writers from Flaubert to Tolstoy deemed worthy of artistic and moral scrutiny. This is the tradition into which Shriver's novel fits."
— Entertainment Weekly

"Best novel of '07."
— Entertainment Weekly