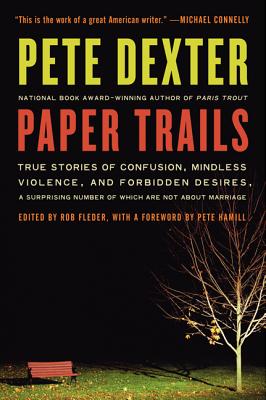 Paper Trails: True Stories of Confusion, Mindless Violence, and Forbidden Desires, a Surprising Number of Which Are Not about Marria (Paperback)
True Stories of Confusion, Mindless Violence, and Forbidden Desires, a Surprising Number of Which Are Not about Marria
Ecco Press, 9780061189364, 289pp.
Publication Date: January 8, 2013
Description
In the 1970s and '80s, before he earned national acclaim for his award-winning novels, Pete Dexter was a newspaper columnist. Every week, in a few hundred words, Dexter cut directly to the heart of the American character at a time of national turmoil and crucial change. With haunting urgency, his columns laid bare the violence, hypocrisy, and desperation he saw on the streets of Philadelphia and in the places he visited across the country. But he reveled, too, in the lighter side of his own life, sharing scenes with the indefatigable Mrs. Dexter, their young daughter, and a series of unforgettable creatures who strayed into their lives. No matter what caught Dexter's eye, it was illuminated by his dark, brilliant humor. Collected here are eighty-two of the best of those spellbinding, finely wrought pieces--with a new preface by the author--assembled by Rob Fleder, editor of the bestselling Sports Illustrated 50th Anniversary Book. Paper Trails is searing, heartbreaking, and irresistibly funny, sometimes all at once. As Pete Hamill says in his foreword, these essays "are as good as it ever gets."
Praise For Paper Trails: True Stories of Confusion, Mindless Violence, and Forbidden Desires, a Surprising Number of Which Are Not about Marria…
"[A] literary feat—when Dexter gets going he crawls under the skin and stays there."
-New York Times Book Review

[Dexter's pieces] read like finely honed short stories....Their spare, haunting scenes echo Hemingway, their insights Faulkner.
-Cleveland Plain Dealer

PAPER TRAILS is what great newspaper writing is all about.
-Washington Post Book World

"Pete Dexter is a master story teller in all forms... This is the work of a great American writer."
-Michael Connelly

"A jewel box of muscular writing…"
-Denver Post

Superb...Remarkable...The simple clarity of [Dexter's] prose is like an Edward Hopper painting.
-New York Sun

With authority and a strange grace, Dexter has crafted a powerful true portrait of the underbelly of the American Dream.
-Publishers Weekly (starred review)

"Lovers of fine writing ought to give a serious consideration to Pete Dexter's new book."
-Seattle Post-Intelligencer

"Paper Trails is a master class in tight, effective writing."
-St. Petersburg Times

"The author's true eye for detail makes for easy reading."
-Kirkus Reviews

"Laugh-out-loud stories…Ideal for... writers and any book lover who appreciates a good story."
-Library Journal

"Compact and illuminating…"
-Sunday Oregonian

"Paper Trails will stir nostalgia for those who remember a time when newspapers prided themselves on cutting loose, colorful writers…"
-Columbus Dispatch

"A book full of good reading…"
-Rocky Mountain News
Advertisement