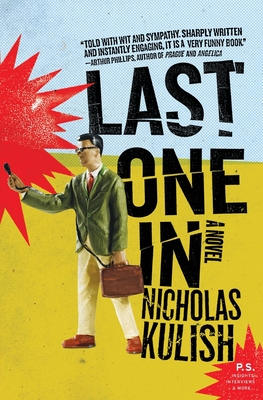 Last One in (Paperback)
Harper Perennial, 9780061189395, 261pp.
Publication Date: June 26, 2007
Description
Jimmy Stephens makes the worst mistake of his career as a gossip columnist when he wrongly accuses a big star of cheating on his wife. With lawsuits pending, Jimmy's imperious new editor blackmails him into taking the place of the paper's injured front-line war correspondent. Shipped off to the desert and embedded with a group of foulmouthed but fraternal Marines, Jimmy provides a bewildered but unfiltered view of the invasion of Iraq that is alternately hair-raising, hilarious, and heartbreaking.
Praise For Last One in…
"A worthy addition to the curious but indispensable shelf of war satires."
-Christopher Buckley, the New York Times

"[A] clever, affecting novel."
-The New Yorker

"...readable and compelling satire...a good romp...that keeps the reader yearning...insightful commentary..."
-Los Angeles Times Book Review

"Kulish's fast-paced and funny work of fiction gives the reader a rare window into the lives of the Marines."
-New York Daily News

"The best parts ... illuminate the everyday humor and struggles of war.. . a compelling read."
-Esquire.com

"[Kulish] hits his satirical spots and smoothly integrates coming-of-age and fish-out-of-water tropes. "
-Time Out New York

"...[A] captivating debut novel...Kulish locates the riotous mayhem of the Iraq war..."
-Entertainment Weekly

"...Kulish...has an excellent eye for the...details of Marine life...his dialogue has a great, Strangelove-ian snap."
-Washington City Paper

"Read "Last One In"...Nicholas Kulish's funny and heartbreaking look at life on the roads of Baghdad."
-New York Post

"...a passionate critique of modern warfare disguised as lad lit. This one'll sneak up on you." Grade: A-
-Entertainment Weekly

"The author...has a pitch-perfect ear for the musical crudity of Marine banter."
-Washington Post

"...polished writing and countless laugh-out-loud moments...."
-Washington Times

"[U]nforgettable...so vivid, I feel like I've spent time in a Humvee with four marines heading for Baghdad."
-Paulina Porizkova, author of A MODEL SUMMER

"Kulish brings the authority of truth to the awful banality of war."
-Booklist

"[A] steady flow of Yossarian-flavored absurdity."
-Publishers Weekly

"Compelling...Uses humor to illuminate the deadly absurdities of war…a deft command of tone--from the slapstick to the tragic."
-Kirkus Reviews

"Told with wit and sympathy, sharply written and instantly engaging, it is a very funny book."
-Arthur Phillips, author of PRAGUE and ANGELICA

"Kulish's funny, engaging novel...gets it exactly right."
-Hampton Sides, bestselling author of GHOST SOLDIERS

"Like...David O. Russell's film THREE KINGS, Nicholas Kulish...brings home both the terror and the absurdity of combat..."
-Adam Langer, author of CROSSING CALIFORNIA and THE WASHINGTON STORY
Advertisement