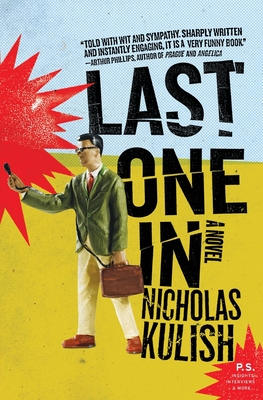 Last One In (Paperback)
Ecco, 9780061189395, 288pp.
Publication Date: June 26, 2007
* Individual store prices may vary.
Description
Jimmy Stephens makes the worst mistake of his career as a gossip columnist when he wrongly accuses a big star of cheating on his wife. With lawsuits pending, Jimmy's imperious new editor blackmails him into taking the place of the paper's injured front-line war correspondent. Shipped off to the desert and embedded with a group of foulmouthed but fraternal Marines, Jimmy provides a bewildered but unfiltered view of the invasion of Iraq that is alternately hair-raising, hilarious, and heartbreaking.
About the Author
In 2003, Nicholas Kulish was embedded with a Marine attack-helicopter squadron for the Wall Street Journal. He is an editorial writer at the New York Times and has also written for the Washington Post, Washington Monthly, and ESPN magazine. He lives in New York City.
Praise For Last One In…
"A worthy addition to the curious but indispensable shelf of war satires."
— Christopher Buckley, the New York Times

"[A] clever, affecting novel."
— The New Yorker

"...readable and compelling satire...a good romp...that keeps the reader yearning...insightful commentary..."
— Los Angeles Times Book Review

"Kulish's fast-paced and funny work of fiction gives the reader a rare window into the lives of the Marines."
— New York Daily News

"The best parts ... illuminate the everyday humor and struggles of war.. . a compelling read."
— Esquire.com

"[Kulish] hits his satirical spots and smoothly integrates coming-of-age and fish-out-of-water tropes. "
— Time Out New York

"...[A] captivating debut novel...Kulish locates the riotous mayhem of the Iraq war..."
— Entertainment Weekly

"...Kulish...has an excellent eye for the...details of Marine life...his dialogue has a great, Strangelove-ian snap."
— Washington City Paper

"Read "Last One In"...Nicholas Kulish's funny and heartbreaking look at life on the roads of Baghdad."
— New York Post

"...a passionate critique of modern warfare disguised as lad lit. This one'll sneak up on you." Grade: A-
— Entertainment Weekly

"The author...has a pitch-perfect ear for the musical crudity of Marine banter."
— Washington Post

"...polished writing and countless laugh-out-loud moments...."
— Washington Times

"[U]nforgettable...so vivid, I feel like I've spent time in a Humvee with four marines heading for Baghdad."
— Paulina Porizkova, author of A MODEL SUMMER

"Kulish brings the authority of truth to the awful banality of war."
— Booklist

"[A] steady flow of Yossarian-flavored absurdity."
— Publishers Weekly

"Compelling...Uses humor to illuminate the deadly absurdities of war…a deft command of tone--from the slapstick to the tragic."
— Kirkus Reviews

"Told with wit and sympathy, sharply written and instantly engaging, it is a very funny book."
— Arthur Phillips, author of PRAGUE and ANGELICA

"Kulish's funny, engaging novel...gets it exactly right."
— Hampton Sides, bestselling author of GHOST SOLDIERS

"Like...David O. Russell's film THREE KINGS, Nicholas Kulish...brings home both the terror and the absurdity of combat..."
— Adam Langer, author of CROSSING CALIFORNIA and THE WASHINGTON STORY