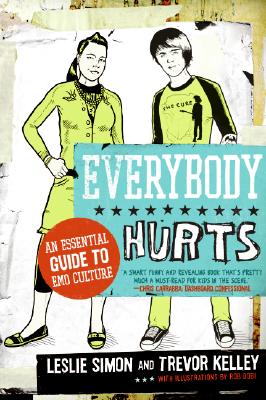 Everybody Hurts
An Essential Guide to Emo Culture
Paperback

* Individual store prices may vary.
Description
What is emo? For starters it's a form of melodic, confessional, or EMOtional punk rock. But emo is more than a genre of music–it's the defining counterculture movement of the '00s. EVERYBODY HURTS is a reference book for emo, tracing its angsty roots all the way from Shakespeare to Holden Caufield to today's most popular bands.
There's nothing new about that perfect chocolate and peanut butter combination––teenagers and angst. What is new is that emo is the first cultural movement born on the internet. With the development of early social networking sites like Make Out Club (whose mission is to unite "like–minded nerds, loners, indie rockers, record collectors, video gamers, hardcore kids, and artists through friendship, music, and sometimes even love") outcast teens had a place to find each other and share their pain, their opinions, and above all, their music–which wasn't available for sale at the local record store.
Authors Leslie Simon and Trevor Kelley lead the reader through the world of emo including its ideology, music, and fashion, as well as its influences on film, television, and literature. With a healthy dose of snark and sarcasm, EVERYBODY HURTS uses diagrams, illustrations, timelines, and step–by–step instructions to help the reader successfully achieve the ultimate emo lifestyle. Or, alternately, teach him to spot an emo kid across the mall in order to mock him mercilessly.
Praise For Everybody Hurts: An Essential Guide to Emo Culture…
"A smart, funny and revealing book that's pretty much a must read for kids in the scene." — Chris Carrabba, Dashboard Confessional
"If someone was to ask me, 'What is emo?,' I would hand them a copy of EVERYBODY HURTS." — Matt Rubano, Taking Back Sunday
"[D]estined to become a staple in any emo music lover's book collection ." — Myspace.com
"[T]his book is not only hilarious, but absolutely genius." — Jason Tate, Absolutepunk.net
"[T]he essential book for anyone who fancies themselves emo." — Sarah "Ultragrrrl" Lewitinn, author of The iPod DJ
It Books, 9780061195396, 256pp.
Publication Date: April 24, 2007
About the Author
Trevor Kelley is a leading contributor for Alternative Press. His work has also appeared in Spin, NME, and Harp. His favorite emo album of the past ten years is Tell All Your Friends by Taking Back Sunday. He lives in New York.
Leslie Simon is the author of Wish You Were Here: An Essential Guide to Your Favorite Music Scenes and co-author of Everybody Hurts: An Essential Guide to Emo Culture. Her work has appeared in Kerrang!, Alternative Press, metromix.com, and MTV.com.