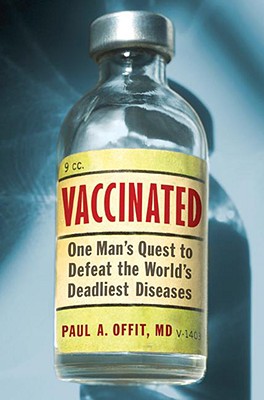 Vaccinated (Paperback)
One Man's Quest to Defeat the World's Deadliest Diseases
Harper Perennial, 9780061227967, 272pp.
Publication Date: August 5, 2008
Other Editions of This Title:
Hardcover (6/12/2007)
* Individual store prices may vary.
Description
His goal—to prevent every disease that commonly attacked children—was unattainable. But Maurice Hilleman came close.
Maurice Hilleman is the father of modern vaccines. Chief among his accomplishments are nine vaccines that practically every child gets, rendering formerly deadly diseases—including mumps, rubella, and measles—nearly forgotten.  Author Paul A. Offit's rich and lively narrative details Hilleman's research and experiences as the basis for a larger exploration of the development of vaccines, covering two hundred years of medical history and traveling across the globe in the process. The history of vaccines necessarily brings with it a cautionary message, as they have come under assault from those insisting they do more harm than good. Paul Offit clearly and compellingly rebuts these arguments, and, by demonstrating how much the work of Hilleman and others has gained for humanity, shows us how much we have to lose.
About the Author
Paul A. Offit, MD, is a professor of pediatrics in the Division of Infectious Diseases and director of the Vaccine Education Center at the Children's Hospital of Philadelphia, as well as the acclaimed author of Autism's False Prophets, Vaccinated, Pandora's Lab, and Deadly Choices.
Praise For Vaccinated: One Man's Quest to Defeat the World's Deadliest Diseases…
"This extraordinarily fine, well-researched, and beautifully written book deserves the widest possible readership. More physicians should write this well."
— Choice magazine