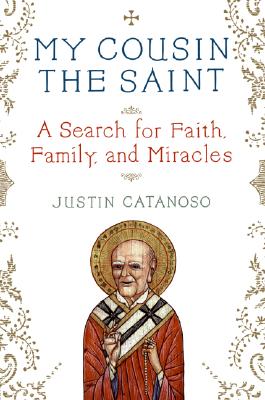 My Cousin the Saint
A Search for Faith, Family, and Miracles
Hardcover

* Individual store prices may vary.
Other Editions of This Title:
Paperback (6/16/2009)
Description
An inspiring story of faith and family across two continents
Like millions of other Italians in the early twentieth century, Justin Catanoso's grandfather immigrated to America to escape poverty and hardship. Nearly a hundred years later, Justin, born and raised in New Jersey, knows little of his family beyond the Garden State.
That changes in 2001 when he discovers that his grandfather's cousin, Padre Gaetano Catanoso, is a Vatican-certified miracle worker. After a life of serving the poor and founding an order of nuns, Gaetano had been approved by Pope John Paul II to become a saint, the first priest from Calabria ever to be canonized. A typically lapsed American Catholic, Justin embarks on a quest to connect with his extended family in southern Italy and, ultimately, to awaken his slumbering faith.
My Cousin the Saint charts the parallel history of two relatives--Justin's grandfather, Carmelo, and his sainted cousin, Gaetano. While Carmelo leaves his homeland to pursue New World prosperity, Gaetano stays behind to relieve Old World misery. Justin reunites the two halves of a sundered family by both exploring the life of the saint in Calabria and uncovering the untold story of his grandfather's family, raised in New Jersey between two world wars.
Justin confronts his own tenuous spiritual moorings in the process. After meeting with Vatican officials in Rome, he is astonished by the complexity of saint-making. After hearing one miracle story after another, he struggles with the line between the mystical and the divine. After seeing his brother fall ill with terminal cancer, he questions the value of prayer. And after reveling in the charm and generosity of his newfound Italian relatives, he comes to learn what it means to have a saint in the family.
A compelling narrative written with grace and honesty, My Cousin the Saint is a testament to the challenge of being Catholic in twenty-first-century America. More than a biography, more than an immigrant memoir, more than a chronicle of renewed faith, it is a love letter to a family now reunited across oceans and years.
Praise For My Cousin the Saint: A Search for Faith, Family, and Miracles…
"A fascinating quest for ancestry and an illuminating wrestling with faith."
-washingtonpost.com

"A beautiful book that brings with it the joy and recognition of family and of faith."
-Antonio Monda, author of Do You Believe?: Conversations on God and Religion

"Worth worth reading for the travelogue alone."
-Greensboro News & Record

"Vividly brings to life one of the Church's newest canonized saints."
-The Catholic Standard & Times

"A book for history lovers. . . for students of theology, for those who question their faith, or for anyone stumbling down life's highway."
-Cape May County Herald

"Glorious. . . . It's a great story: part travelogue, part detective story, part spiritual journal, and beautifully told."
-America: The National Catholic Weekly

"A glorious book! Part spiritual journey, part detective story, part travelogue, Justin Catanoso's engrossing new memoir shows how discovering God always leads to discovering yourself. His quest to learn about his saintly cousin leads him to a fuller and richer understanding of his faith, his family, and, ultimately, himself."
-James Martin, SJ, author of My Life with the Saints and frequent commentator for the New York Times and National Public Radio

"Justin Catanoso went to Italy in search of his canonized cousin. In finding the story of his own family, he has written a warm and candid memoir that I admire."
-Gay Talese, author of Unto the Sons
William Morrow, 9780061231025, 352pp.
Publication Date: June 1, 2008
or
Not Currently Available for Direct Purchase