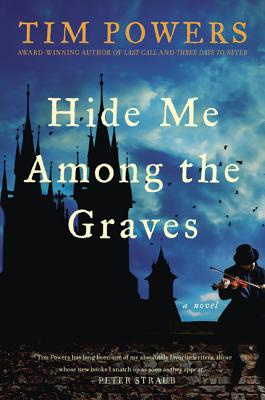 Hide Me Among the Graves (Hardcover)
William Morrow, 9780061231544, 528pp.
Publication Date: March 1, 2012
Other Editions of This Title:
Digital Audiobook (11/18/2013)
Paperback (2/19/2013)
Hardcover (3/1/2012)
* Individual store prices may vary.
Description
From Last Call to On Stranger Tides to Declare to Three Days to Never, any book by the inimitable Tim Powers is a wonder. With Hide Me Among the Graves, it's possible that the uniquely ingenious Powers has surpassed even himself. A breathtaking historical thriller in which art and the supernatural collide, Hide Me Among the Graves transports readers back to mid-19th century London and features a reformed ex-prostitute, a veterinarian, and the vampire ghost of Lord Byron's onetime physician, uncle to poet Christina Rossetti and her brother, the painter Dante Gabriel Rossetti. A novel that, like all his others, is virtually impossible to pidgeonhole--or to resist--Hide Me Among the Graves is the taut, gripping, and utterly remarkable literary thrill ride that Tim Powers fans have been eagerly waiting for.
Praise For Hide Me Among the Graves…
"[A] breathtaking achievement, the complexity of which a review can only begin to capture...[A] powerful work."
-Locus

"[I]nternational metaphysical intrigue involving time travel, Jewish mysticism, and Albert Einstein. . . . [I]t all somehow works in Powers' wily storytelling logic. B+."
-Entertainment Weekly

"[An] intense, downhill-race of a story . . . the summer sleeper hit of 2006."
-Denver Post

"[THREE DAYS TO NEVER] contains so many genuine pleasures . . . plenty of action, humor and unexpectedly touching human drama. . . . [a] welcoming entry point to [Powers's] singular fictional universe."
-San Francisco Chronicle

"A writer of extraordinary imaginative powers."
-Milwaukee Journal Sentinel

"A wild and wooly romp-fun."
-Library Journal

"Almost despite its wonderful weirdness, this thriller moves at a frantic clip . . . [the] very outlandishness [of Powers's metaphysics] makes the story all the more compelling."
-Booklist

"Endlessly inventive . . . You might finish this overstuffed novel still unsure about the connection between Einstein and astral projection, but if you give in to Powers's imaginative leaps and relentless pacing you may find that a mere quibble."
-New York Times Book Review

"For those who have never read Powers before, THREE DAYS TO NEVER might be a welcoming entry point to his singlular fictional universe."
-San Francisco Chronicle Book Review

"Grade: A . . . Powers never fails to reward readers with fascinating and believable tales that take them just beyond the edges of reality. Combining historical fact, science-fiction and thriller pacing, THREE DAYS TO NEVER is worth the wait. . . . Savor THREE DAYS TO NEVER."
-Rocky Mountain News

"Machiavellian . . . [A]n astonishingly sophisticated and engrossing narrative."
-Kirkus Reviews (starred review)

"[A] stellar supernatural thriller.…Powers works an impressively original variation on the vampire theme....The meticulous attention to historical and literary detail grounds the story solidly in its period and enhances its imaginative reach."
-Publishers Weekly (starred review) on HIDE ME AMONG THE GRAVES

"The nonstop action of this diverting steampunk thriller will attract many readers."
-Library Journal on HIDE ME AMONG THE GRAVES

"In this fast-paced nail-biter... the breakneck pace and labyrinthine plot pull us through history, mythology, mystery, and horror with [Powers'] signature creative verve. "
-Booklist on HIDE ME AMONG THE GRAVES

"It would be a serious mistake to dismiss Hide Me Among the Graves as something less than art....It's a smart, exciting and perfectly constructed novel, and it's hard as hell to put down."
-NPR.org on HIDE ME AMONG THE GRAVES

"[A] fine example of the work of a much-beloved author, and a spooky ride through Victorian London to boot....Powers's work engages with something prerational that is buried deep, deep in our brains, and that won't be bullied into submission by mere reason. "
-boingboing.com on HIDE ME AMONG THE GRAVES

"A fascinating exploration of the fine line between inspiration and insanity, this horror/historical fiction/adrenalin blend will make your flesh creep and your heart pound."
-Library Journal
or
Not Currently Available for Direct Purchase