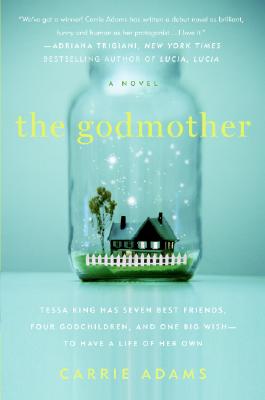 The Godmother (Paperback)
Harper Perennial, 9780061232619, 496pp.
Publication Date: June 24, 2008
Other Editions of This Title:
Hardcover (9/18/2007)
* Individual store prices may vary.
Description
Nothing scares Tessa King more than the thought she will never have children. It doesn't matter how good her life is, and it is, it never feels good enough. She has four godchildren and dozens of friends, yet love eludes her. She knows how good a mother she could be, if only she had the chance. And then one terrible day she does, and Tessa learns firsthand that life on the other side of that white picket fence is more complicated than she ever could have imagined.
Heartwarming, funny, and genuine, The Godmother speaks to anyone who has wondered about the next step and reminds us that happily-ever-after is just the beginning of the story.
About the Author
Carrie Adams is the author of The Godmother, which is being adapted for film. She lives in London with her husband and three children.
Praise For The Godmother…
"A lively fusion of chick lit and mummy lit . . . great."
— Marie Claire (UK)

"Carrie Adams eschews the traditional happy-ever-after in this witty and realistic take on modern life."
— In Style UK

"A punchily written page-turner."
— Good Housekeeping, UK

"Book clubs rejoice! We've got a winner! ...brilliant, funny, and human ...I loved it."
— Adriana Trigiani, New York Times bestselling author of the Big Stone Gap series and Lucia, Lucia
Do you think Tessa is happy or unhappy? How does her role as godmother 'superstar' contribute to her happiness/unhappiness?
Did Tessa make the right decision in choosing not to tell Francesca and Nick about Caspar's problems? What would you have done?
How does Tessa hide behind her "Godmother" title?
How does the expression, "you always want what you don't have" ring true for The Godmother?
Is Tessa a better godmother or a better friend? How are these two roles different? Does Tessa differentiate these roles? If so, how?