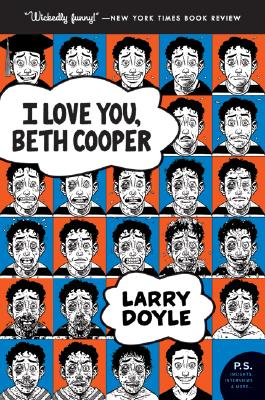 I Love You, Beth Cooper (Paperback)
Ecco, 9780061236181, 304pp.
Publication Date: April 15, 2008
Other Editions of This Title:
Digital Audiobook (6/8/2009)
CD-Audio (6/9/2009)
Paperback (6/9/2009)
Hardcover (5/8/2007)
Mass Market Paperback (6/1/2009)
* Individual store prices may vary.
Description
Denis Cooverman wanted to say something really important in his high school graduation speech. So, in front of his 512 classmates and their 3,000 relatives, he announced: "I love you, Beth Cooper."
It would have been such a sweet, romantic moment. Except that Beth, the head cheerleader, has only the vaguest idea who Denis is. And Denis, the captain of the debate team, is so far out of her league he is barely even the same species. And then there's Kevin, Beth's remarkably large boyfriend, who's in town on furlough from the United States Army. Complications ensue.
About the Author
Larry Doyle goes by thelarrydoyle on Facebook, Twitter, and in real life. Too much information about him is available at larrydoyle.com.
Praise For I Love You, Beth Cooper…
"Gleefully clever and adroitly sweet."
— USA Today

"In the flagrantly funny I Love You, Beth Cooper, Larry Doyle gives the coming-of-age novel a swirly."
— Vanity Fair

"Fresh, sweet, seriously funny."
— Newsweek

"…hilarious coming-of-age novel…"
— Rocky Mountain News

"…this book is laugh-out-loud funny…"
— John Searles, NBC Weekend Today Show

"…this side-splitting novel of adolescence is a classic teen movie waiting to be made."
— Entertainment Weekly - The Must List

One of the "best comedy books of the summer."
— Time Out Chicago

"…the book is great... dark, absurdist, insanely funny send-up of a John Hughes movie…Buy it."
— New York magazine

"Doyle's hilarious debut novel [moves] at a clip but never forgets that humor needs heart, too." Grade: A
— Entertainment Weekly

"Larry Doyle…gives a 21st-century gloss to this familiar tale… wickedly funny…"
— New York Times Book Review

"I Love You, Beth Cooper…made B&N fiction buyer Sessalee Hensley 'laugh-snort through my nose.'"
— USA Today

"...hilarious..."
— Esquire

"...a demonstration of the power of good comic writing…"
— Weekly Standard

"…hilarious high school romp... never ceases to charm...unlike, say, PE."
— E! Online - Cool Stuff

"Hilarious, suspenseful, and a little good-kind-of-sad, the novel is a mashup of John Hughes movies.
— Blueprint Magazine

"This funny, hopeful novel is like a John Hughes movie in book form."
— Indianapolis Star

"...darn funny."
— Salt Lake City Tribune

"...a romp, a goof, a wedgie to the coming-of-age novel... the book is blessed release."
— Cleveland Plain Dealer

"Doyle [injects] his own brand of insightful, engaging humor and convincingly recreates the high school experience..."
— New York Press

"A smart, incredibly funny pastiche…Doyle's writing is fast-paced and full of self-aware nods to the audience."
— Houston Press - Blogs

"It's all outlandish fun, but what do you expect from a former Simpsons writer?"
— Daily Candy Los Angeles

"Hip and hysterical...a fun, teen coming-of-age story."
— Buffalo News

"…outrageously funny novel… "
— Booklist

"...humorously addresses the agony and ecstasy of adolescence. It's high-school hell…Doyle has the scene down cold."
— Kirkus Reviews

"If this book doesn't make you laugh out loud, something is wrong with you."
— Dave Barry

"...an instant classic, right up there with great end-of-school landmarks like American Graffiti and Dazed and Confused."
— Tom Perrotta, bestselling author of LITTLE CHILDREN

"Larry Doyle has created a perfect literary hot fudge sundae: sweet, naughty, delicious, irresistible."
— Kurt Andersen

"...a one-night-only joyride through Larry Doyle's brilliant sense of humor."
— David Schickler, author of SWEET AND VICIOUS and KISSING IN MANHATTAN

"I have never laughed as consistently hard with (or at) anything as I did with this book…"
— Pittsburgh Post-Gazette