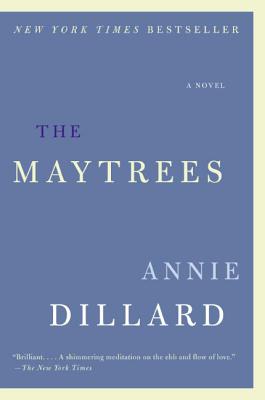 The Maytrees
A Novel
Paperback

* Individual store prices may vary.
Other Editions of This Title:
Digital Audiobook (6/11/2007)
Hardcover (6/12/2007)
Compact Disc (6/1/2007)
Paperback, Large Print (7/3/2007)
Fall '08/Winter '09 Reading Group List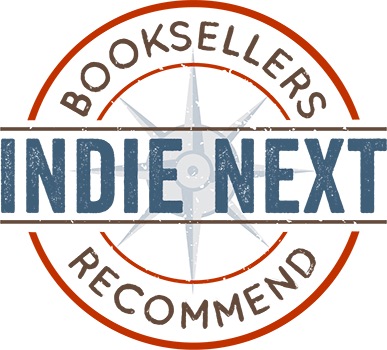 "At long last, Dillard is at it again. Known for her gift of braiding ribbons of darkness to frame great light, and tragedy and death to reveal the marvel of life, now she's turned her scope on love, marriage, betrayal, and forgiveness. Slow down your life. Savor every word."
— Pepper Parker, Vintage Books, Vancouver, WA
View the List
Description
"Brilliant. . . . A shimmering meditation on the ebb and flow of love."  — New York Times
"In her elegant, sophisticated prose, Dillard tells a tale of intimacy, loss and extraordinary friendship and maturity against a background of nature in its glorious color and caprice. The Maytrees is an intelligent, exquisite novel." — The Washington Times
Toby Maytree first sees Lou Bigelow on her bicycle in postwar Provincetown, Massachusetts. Her laughter and loveliness catch his breath. Maytree is a Provincetown native, an educated poet of thirty. As he courts Lou, just out of college, her stillness draws him. He hides his serious wooing, and idly shows her his poems.
In spare, elegant prose, Dillard traces the Maytrees' decades of loving and longing. They live cheaply among the nonconformist artists and writers that the bare tip of Cape Cod attracts. When their son Petie appears, their innocent Bohemian friend Deary helps care for him. But years later it is Deary who causes the town to talk.
In this moving novel, Dillard intimately depicts willed bonds of loyalty, friendship, and abiding love. She presents nature's vastness and nearness. Warm and hopeful, The Maytrees is the surprising capstone of Dillard's original body of work.
Praise For The Maytrees: A Novel…
"Packed with superb writing."
— New York Newsday

"One of the most distinctive voices in American letters today."
— Boston Globe

"In this amazing novel, Dillard has combined her Thoreau-like nature writing with her philisophical/theological way of looking at the world to create a beautiful story of life and love and ultimately death. . . . This is the kind of novel in which you want to linger over the beauty of each sentence and along with Dillard's characters, contemplate topics like why we love or what are we meant to do with our lives. While the outer story seems so simple, the inner story is incredibly profound."
— Cathy Schornstein

"Dillard calls on her erudition as a naturalist and her grace as a poet to create an enthralling story of marriage—particular and universal, larky and monumental."
— Publishers Weekly (starred review)

"A superbly written novel. . . . The compact, elliptical narrative will continue to pervade the reader's consciousness long after the novel ends."
— Kirkus (starred review)

"A rhapsodic novel of our times. . . . In this mythic and transfixing tale, Dillard wryly questions notions of love, exalts in life's metamorphoses, and celebrates goodness. She casts a spell sensuous and metaphysical."
— Booklist (starred review)

"Annie Dillard is best known her for lyrical observations on nature and philosophy, and she puts those talents to marevelous use in her new novel The Maytrees, a love story that spans four decades and is set on Cape Cod….Dillard takes the most amazing facts and lays them bare for all to see."
— BookPage

"Dillard, a naturalist at heart, poignantly tracks the relationships between Lou and Toby Maytree across 50 years."
— More Magazine

"Glorious."
— The Miami Herald

"In The Maytrees, Dillard creates a beautiful sense of stillness as she details the unencumbered lives of Toby and Lou."
— The Christian Science Monitor

"Annie Dillard gets it right twice in her second novel. As well as being the compelling story of a couple who marry just after World War II, The Maytrees is an ode to the unique, open-skied beauty of Provincetown. . . . Writing about Provincetown, Annie Dillard does the near-impossible: She matches the simple splendor of language to the subtle magnificence of place. And writing about the Maytrees, she captures the entwining and transformation of two people who marry and then grow up."
— The New York Observer

"Dillard has written an elegant metaphor strewn and at the same time beach-funky, philosophically minded, ocean-side love story set on Cape Cod, between the dunes and the star-splashed sky above."
— NPR's All Things Considered

"Dillard's erudition and her tendency to pose large philosophical and moral questions are in evidence here as in her other works. . . . The Maytrees is a fine book, both in depth of insight and freshness of language . . . by one of our finest contemporary authors."
— The Roanoke Times

"Each paragraph of Dillard's novel is a thing of beauty, meticulously crafted and vivid, whether expressing the loveliness of a seascape or a man's inner turmoil."
— Entertainment Weekly

"A gorgeous meditation on one couple's slog through marriage, separation and reconciliation."
— The Washington Post

"The Maytrees is a soulful exploration of love and marriage that has the hot, sunburned sting of a seaside summer afternoon. . . . Dillard evokes the rich landscape and characters of Cape Cod—its eccentric clam diggers and poets posing as roofers—while centering her story around one family's moving tragedy."
— People

"Dillard has all she needs in terms of imagination, and she is handy with the witty rejoinders."
— The Chicago Tribune

"Lyrically enthralling. . . . Dillard tells an engaging, subtle tale."
— The Seattle Times

"Dillard's writing can be as fine as the constellations in a clear night sky."
— The Atlanta Journal-Constitution

"'Full of grace' describes both the story and the way Dillard tells it. Her style is perfectly attuned to her material—quirky, sometimes near archaic in its rhythms and language, plain-spoken but lyrical. . . . You may not come away from this novel with all the answers about love and marriage, but with Dillard as guide, you will begin to know the important questions."
— The Hartford Courant

"Dillard's lush, perfect prose paints a winning portrait of these artistic, opinionated, strong-willed characters who love books, love words, embrace life. . . . Time and love parade before us in The Maytrees, in all their glory. . . . This warm enveloping tale enfolds us like a caress."
— The New Orleans Times-Picayune

"The Maytrees showcases all the reasons people worship Dillard. . . . The Maytrees has elegant, evocative language. It describes nature in a way that would enchant the most hardened city dweller. And it captures the mystery of love, maternal as well as romantic. This novel is a treasure. . . . Dillard writes so beautifully about the ocean, the clouds, the stars, the bogs and the sand that the landscape becomes the most memorable character of this novel. . . . The Maytrees is the perfect beach book for the serious reader."
— USA Today

"Exquisite. . . . Few American writers can describe the ecology of a region quite like Pulitzer Prize winner Annie Dillard. In her slim, poetic new novel, The Maytrees, she turns those descriptive muscles on a man and a woman—lovers—bound by their commitment and the landscape against which their rocky affair unfolded. . . . The Maytrees follows their courtship, romance and early marriage with a fine-tuned eye and an amusing ear."
— John Freeman, The Cleveland Plain Dealer

"A meditation on love and forgiveness."
— The Wall Street Journal

"Wonderful. . . . Annie Dillard is a writer of unusual range, generosity, and ambition. . . . Her prose is bracingly intelligent, lovely, and humane. . . . Dazzling. . . . The Maytrees is a love story of an unusually adult and contemporary kind."
— Margot Livesey, The Boston Globe

"Dillard's poetic descriptions seem to grow up out of the sand and seafoam, and the images she puts into your mind, playfully rendered and wonderfully precise, are spellbinding. Ultimately, this is a story of great tenderness."
— The Arizona Republic

"In the union of Toby and Lou Maytree we see what could be the ideal marriage: companionship, intimacy, contentment, and love that needs no words. But amid all this reassurance and coziness, the Maytrees' lives are turned upside down. . . . Then this becomes a story of survival and repose, of a mother and son finding peace for themselves."
— Elle

"Brilliant. . . . A shimmering meditation on the ebb and flow of love. . . . The author also weaves recurring images and themes through the narrative with supreme grace. . . . As in all of Ms. Dillard's writing, transcendent moments abound. "
— The New York Times

"Dillard's novel, about a torturous affair, captures the solitude of Provincetown in spare descriptions of character and landscape."
— New York Magazine

"A simple, elegant tale. . . . Thought and solitude and the mystery of being, death and love and the sea, dwell at the center of this spare and graceful novel."
— The San Diego Union-Tribune

"The charm here is in the telling. . . . Dillard's look at love and distance is engagingly intimate."
— Boston Magazine

"[F]ull of the kind of pleasures one looks for in fiction. . . . The novel as a whole is beautiful, and the beauty is never digressive or ornamental. . . . This is where Dillard's imagination has always lived, in the stark and lyrical awareness of the profundity of the physical world."
— Washington Post Book World

"Gorgeous. . . . Deeply meditative. . . . One of the most lucid and effective books Dillard has ever produced. Certainly one of the most affecting. . . . A novel of almost drastic austerity."
— Slate

"Annie Dillard is, was and always will be the very best at describing the landscapes in which we find ourselves. The Maytrees is as much an exegesis on love and time as it is the story of a marriage. . . . There is no denying that when you have finished this slim book, you have looked over a jewel and seen its beauty."
— The Minneapolis Star Tribune

"A spare and subtle novel. . . . Like Thoreau, Dillard takes us to that place of rugged independence, that struggle of making a living without forfeiting the mind."
— The Chicago Sun-Times

"Intelligent and poetic. . . . Dillard's prose is rich, as is her dive into the too-often-shallow waters of love and deception. . . . The Maytrees will not disappoint."
— The Rocky Mountain News

"A very good book. . . . Nobody writes nature better than Annie Dillard. There's nobody more alive to the nuances of its pulsing (and sometimes menacing) fecundity. In The Maytrees, the sand dunes and waves of Cape Cod function almost as characters. . . . Dillard seems incapable of writing a bad or graceless sentence; this novel is full of beautifully concise sentences that convey precisely what they need to convey without drawing undue attention to themselves."
— The Globe and Mail

"Breathtakingly illuminative. . . . Beautifully told. . . . Dillard has accomplished the reader's payoff she so relentlessly detailed almost 20 years ago in The Writing Life. She too has pressed upon us 'the deepest mysteries.'"
— The New York Times Book Review

"Bracingly intelligent, lovely, and humane. . . . Dazzling. . . . The Maytrees is a love story of an unusually adult and contemporary kind."
— Margot Livesey, The Boston Globe

"A reservoir of oceanic language, thrilling and sophisticated assumptions of reader intelligence and elegantly lean descriptive detail. . . . Dillard knows how to create Eden on the page . . . exquisite."
— Los Angeles Book Review

"Dillard's examination of all manner of human interactions is nuanced, and her evocation of Cape Cod is at once precise and gorgeous."
— The Atlantic

"Poignant. . . . Dillard, like the best of naturalists, creates memorable poetic images. . . . If the purpose of literature is to teach us how to live, Dillard has succeeded."
— The Houston Chronicle

"A book worth pondering. Its seeming simplicity is seductive enough to draw the reader into the questions that Dillard poses and then to strike with unexpected emotional power. Once again, Dillard takes on the big questions of life, love and meaning in a fresh and intriguing way."
— The Christian Century

"The Maytrees is a quiet masterpiece. . . . Dillard's prose slips from the natural to the human with quicksilver grace. . . . Life by sea and starlight is simple and rich, conveyed by Dillard with Thoreau's eye for the natural world. . . . As well as Herman Melville, something of Dillard's great Catholic compatriot Flannery O'Connor is there in her unremitting sense of both doom and wonder, in the beauty of her prose and the boldness of her structure."
— The Financial Times

"In her elegant, sophisticated prose, Miss Dillard tells a tale of intimacy, loss and extraordinary friendship and maturity against a background of nature in its glorious color and caprice. The Maytrees is an intelligent, exquisite novel."
— The Washington Times

"In The Maytrees Dillard remains nominally loyal to those values that make her earlier writings both disturbing and rewarding: patience, the attention to particularity, the emptying of the self, and the submission of the will to necessity."
— The London Review of Books
Harper Perennial, 9780061239540, 240pp.
Publication Date: June 10, 2008
About the Author
Annie Dillard is the Pulitzer Prize-winning author of Pilgrim at Tinker Creek, An American Childhood, The Writing Life, The Living and The Maytrees. She is a member of the Academy of Arts and Letters and has received fellowship grants from the John Simon Guggenheim Foundation and the National Endowment for the Arts.