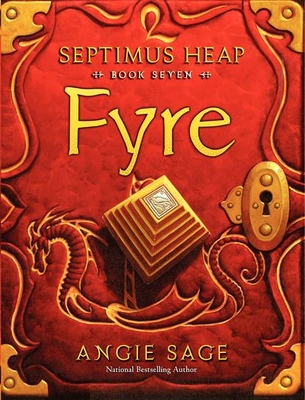 Septimus Heap, Book Seven (Hardcover)
Fyre
Katherine Tegen Books, 9780061242458, 720pp.
Publication Date: April 16, 2013
* Individual store prices may vary.
Description
The seventh book in the internationally bestselling Septimus Heap series by Angie Sage, featuring the funny and fantastic adventures of a wizard apprentice and his quest to become an ExtraOrdinary Wizard.
New York Times Bestselling Series
"To wrap up her deservedly popular series, Sage calls back nearly all of the first six volumes' cast members, living and dead, for a fresh flurry of Magykal feats and threats from the Darke." —Kirkus Reviews

"Sage is a master of her created world, paying devoted attention to the smallest detail; the world and the characters in it are as vivid and engaging in this final installment as they have been throughout the Septimus Heap series." —ALA Booklist
Favorite characters return in this stunning seventh final book in Angie Sage's New York Times bestselling Magykal series: ExtraOrdinary Wizard Marcia Overstrand, Alchemist Marcellus Pye, and of course Septimus Heap, Jenna, Beetle, Simon, Lucy, and the rest of the Heap gang.
Jenna will soon be Queen and Beetle is now Chief Hermetic Scribe. Septimus, however, must rid the Castle of the Darke Domaine by destroying the Two-Faced Ring. His skills in both Magyk and Physik will be tested, as will his loyalties.
Filled with Angie Sage's characteristic humor and heart, Fyre is a grand finale that is fantasy adventure at its best.
About the Author
ANGIE SAGE was born in London and grew up in the Thames Valley, London, and Kent. She now lives in Somerset in a very old house that has a 480-year-old painting of King Henry VIII on the wall. The seven books in her original Septimus Heap series are international bestsellers. She is also the author of the Araminta Spookie series. Visit her online at www.septimusheapblog.com or follow @AngieSageAuthor on Twitter.
Mark Zug has illustrated many collectible card games, including Magic: The Gathering and Dune, as well as books and magazines. He lives in Pennsylvania.
Praise For Septimus Heap, Book Seven: Fyre…
"To wrap up her deservedly popular series, Sage calls back nearly all of the first six volumes' cast members, living and dead, for a fresh flurry of Magykal feats and threats from the Darke."
— Kirkus Reviews

"Sage is a master of her created world, paying devoted attention to the smallest detail; the world and the characters in it are as vivid and engaging in this final installment as they have been throughout the Septimus Heap series."
— ALA Booklist

Praise for Magyk: "A quick-reading, stand-alone, deliciously spellbinding series opener."
— Kirkus Reviews (starred review)

Praise for Flyte: Terrifically entertaining. Fans of the first book will be delighted with this sequel to Septimus's story."
— Voice of Youth Advocates (VOYA) (starred review)

Praise for Physik: "Readers will be indubitably hooked—worrying, laughing, and gasping over the nonstop adventures of the engaging troupe. Fans of the first two books will not be disappointed with this installment and will certainly hope for more."
— Voice of Youth Advocates (VOYA) (starred review)

Praise for Queste: "The saga of wizard-in-training Septimus Heap cruises through its fourth episode. . .thanks to generous wads of breezy charm, gusts of spectacular Magyk and a buoyant plot combining drama and comedy in just the right proportions."
— Kirkus Reviews (starred review)

Praise for Syren: "Syren is Sage at her best: it's full of fun, adventure, humor, irony, friendship, loyalty, and nonstop action."
— School Library Journal

Praise for Darke: "A memorable, edge-of-the-seat escapade that will enthrall confirmed fans and newbies alike."
— Kirkus Reviews (starred review)