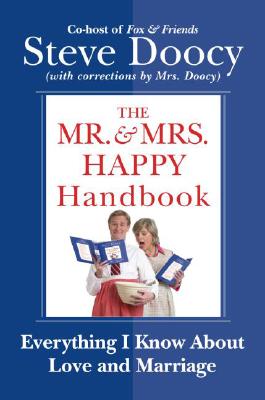 The Mr. & Mrs. Happy Handbook (Paperback)
WmMorrow, 9780061242595, 360pp.
Publication Date: February 27, 2007
Other Editions of This Title:
Paperback (9/4/2007)
Hardcover (10/17/2006)
* Individual store prices may vary.
Description
Steve Doocy, co-host of Fox & Friends, who has been married twenty consecutive years, provides real slice of life stories on everything from early marriage, pregnancy, and the joys of child rearing, to sending your child to college and retirement.
The book can be used for its hilarious husband and wife wisdom, or if things aren't going well, it can be used as a flying projectile to get somebody's attention. This is not an advice book. It is a don't even think of trying this book. The author and his collection of friends and family have already discreetly made almost every conceivable marriage mistake, and it is their hope that this irreverent manual can save you the trouble of being an idiot on your own.
Most stories conclude with "corrections" from Doocy's real life wife Kathy, who after two decades of picking up his socks in the garage, has developed a zany sense of humor herself.
Let's face it, marriage is ridiculously hard, but laughing about it is now incredibly easy, with The Mr. & Mrs. Happy Handbook.
About the Author
Steve Doocy is an Emmy Award-winning television personality and journalist. The longtime morning host of Fox & Friends, he previously worked as a host and news anchor for NBC and CBS and in local television. He is the author of the New York Times bestsellers The Mr. & Mrs. Happy Handbook (with his wife, Kathy) and Tales from the Dad Side. A one-time contestant on Food Network's Ready, Set, Cook!, Doocy was a wunderkind in the kitchen-- at age nine he won a blue ribbon at the Kansas State Fair for baking chocolate chip cookies (he used the recipe on the bag).
Kathy Doocy co-authored The Mr. and Mrs. Happy Handbook and was previously the host of ESPN's Sidelines and worked at NBC. She started her career as a Ford model and actress starring in many commercialsshe threw the rental car keys to OJ and lip-synched "You Deserve a Break Today" for McDonald's. When Kathy and Steve got married and the kids came along, she became a stay-at-home mom and the family CEO.
The Doocys have three grown children and more than twenty-five recipes for pot roast. They live in New Jersey.
or
Not Currently Available for Direct Purchase