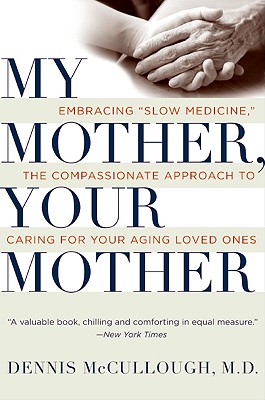 My Mother, Your Mother
Embracing "Slow Medicine," the Compassionate Approach to Caring for Your Aging Loved Ones
Paperback

* Individual store prices may vary.
Description
Thanks to advances in science and medicine, our parents are living longer than ever before. But our health-care system doesn't perform as well when decline eventually sets in. We want to do our best as our loved ones face new complications—more diseases and disabilities—demanding further need for support and careful judgment, but the choices we have to make can seem overwhelming.
Family doctor and geriatrician Dennis McCullough recommends a new approach: Slow Medicine. Shaped by common sense and kindness, it advocates for careful anticipatory "attending" to an elder's changing needs rather than waiting for crises that force acute medical interventions—thereby improving the quality of elders' extended late lives without bankrupting their families financially or emotionally. This is not a plan for preparing for death; it is a plan for understanding, for caring, and for helping those you love live well during their final years.
Praise For My Mother, Your Mother: Embracing "Slow Medicine," the Compassionate Approach to Caring for Your Aging Loved Ones…
"McCullough's concept of 'slow medicine' is an example of that ethic of care in action…recommended for public libraries." — Library Journal
"A valuable book, chilling and comforting in equal measure. A similar book directed at fast doctors, fast hospital administrators and fast insurers might be the next welcome stride backward down the path." — New York Times
"Full of advice on how to get involved in [your parents'] care, and the kind of conversations you should have with their doctors. It's also a warning about the medical profession's alarming tendency toward 'poly-pharmacy.'" — Maclean's
"Appreciation of...My Mother, Your Mother...will, I think, depend on where you are on life's highway. If...your parents are still living, this geriatrician's guide to stepping in as escort, caregiver and advocate for your parent's final journey will probably be comforting in its compassion and detail." — St. Petersburg Times
"As valuable a resource as any I've found." — Jane Gross, New York Times
Harper Perennial, 9780061243035, 288pp.
Publication Date: January 27, 2009
About the Author
Dennis McCullough, M.D., has been a family physician and geriatrician for thirty years. He is the co-author of The Little Black Book of Geriatrics, and he lives with his wife, the poet Pamela Harrison, in Norwich, Vermont.
or
Not Currently Available for Direct Purchase