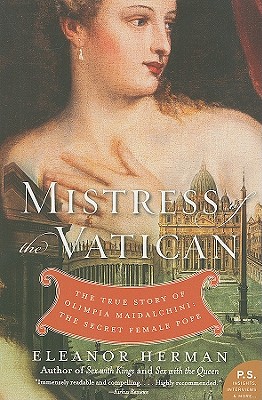 Mistress of the Vatican: The True Story of Olimpia Maidalchini: The Secret Female Pope (Paperback)
The True Story of Olimpia Maidalchini: The Secret Female Pope
Harper Perennial, 9780061245565, 452pp.
Publication Date: September 8, 2009
Description
Eleanor Herman, the talented author of the New York Times bestselling Sex with Kings and Sex with the Queen goes behind the sacred doors of the Catholic Church in Mistress of the Vatican, a scintillating biography of a powerful yet little-known woman whose remarkable story is ripe with secrets, sex, passion, and ambition. For almost four centuries this astonishing story of a woman's absolute power over the Vatican has been successfully buried--until now.
Praise For Mistress of the Vatican: The True Story of Olimpia Maidalchini: The Secret Female Pope…
"...immensely readable and compelling...An expert on—and descendant of—European royal families, she skillfully uses letters, diaries, newssheets of the time, and biographies to tell this personal tale, set during unforgiving times. Highly recommended for public and academic libraries."
-Kirkus Reviews
Advertisement