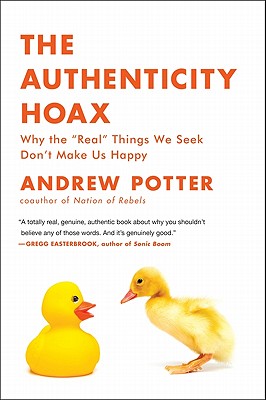 The Authenticity Hoax: Why the "Real" Things We Seek Don't Make Us Happy (Paperback)
Why the "Real" Things We Seek Don't Make Us Happy
Harper Perennial, 9780061251351, 296pp.
Publication Date: May 3, 2011
Description
"A totally real, genuine, authentic book about why you shouldn't believe any of those words. And it's genuinely good."
-- Gregg Easterbrook, author of Sonic Boom
Exploring a number of trends in our popular culture--from Sarah Palin to Antiques Roadshow, organic food to the indignation over James Frey's memoir--Andrew Potter follows his successful Nation of Rebels with a new book that argues that our pursuit of the authentic is fraught with irony and self-defeat. Readers of The Paradox of Choice or Bowling Alone will find many enlightening insights in The Authenticity Hoax, which is, in the words of Tom de Zengotita (Mediated), "the kind of criticism that changes minds."
Praise For The Authenticity Hoax: Why the "Real" Things We Seek Don't Make Us Happy…
"There are excellent arguments here to steal for the next time some bearded hipster at a party enthuses about brining his own beets or vacationing in an eco-tent."
-Newsweek

"Potter's broad-ranging survey makes a good case that the authenticist fantasy is deeply embedded in the culture."
-Wall Street Journal

"[Andrew Potter] offers a shrewd and lively discussion peppered with pop culture references and a stimulating reappraisal of the romantic strain in modern life."
-Publishers Weekly

"A totally real, genuine, authentic book about why you shouldn't believe any of those words. And it's genuinely good."
-Gregg Easterbrook, author of Sonic Boom

"Unique insights on every page and breathtaking in scope... We're not quite certain what is authentic but we know what it is not. Andrew Potter helps us sift through the confusion."
-John Zogby, Chairman of Zogby International and author of The Way We'll Be

"The kind of criticism that changes minds."
-Thomas De Zengotita, author of Mediated

"The author writes with authority about the ways in which today's men and women seek authenticity, or meaning, in their lives … A provocative meditation on the way we live now."
-Kirkus Reviews

"The Authenticity Hoax has the estimable virtue of bringing the profound down to scale while keeping the big picture in hi-def clarity. It's as lively, funny and easy to read as one would want a book on epidemic spiritual malaise to be."
-Toronto Star

"Potter weaves elements of history, philosophy and pop culture together in a book that will leave an impression even if it doesn't necessarily show us the path. Is Andrew Potter one of the great thinkers of our age? He may well be: this is great stuff."
-January Magazine

"Potter's book is very smart."
-National Post
Advertisement