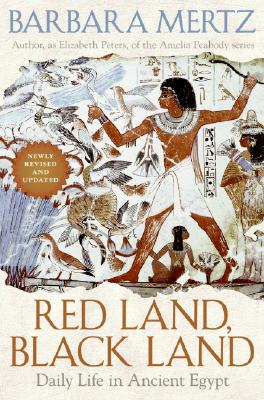 Red Land, Black Land (Hardcover)
Daily Life in Ancient Egypt
William Morrow, 9780061252747, 432pp.
Publication Date: March 18, 2008
* Individual store prices may vary.
Description
A fascinating, erudite, and witty glimpse of the human side of ancient Egypt—this acclaimed classic work is now revised and updated for a new generation
Displaying the unparalleled descriptive power, unerring eye for fascinating detail, keen insight, and trenchant wit that have made the novels she writes (as Elizabeth Peters and Barbara Michaels) perennial New York Times bestsellers, internationally renowned Egyptologist Barbara Mertz brings a long-buried civilization to vivid life. In Red Land, Black Land, she transports us back thousands of years and immerses us in the sights, aromas, and sounds of day-to-day living in the legendary desert realm that was ancient Egypt.
Who were these people whose civilization has inspired myriad films, books, artwork, myths, and dreams, and who built astonishing monuments that still stagger the imagination five thousand years later? What did average Egyptians eat, drink, wear, gossip about, and aspire to? What were their amusements, their beliefs, their attitudes concerning religion, childrearing, nudity, premarital sex? Mertz ushers us into their homes, workplaces, temples, and palaces to give us an intimate view of the everyday worlds of the royal and commoner alike. We observe priests and painters, scribes and pyramid builders, slaves, housewives, and queens—and receive fascinating tips on how to perform tasks essential to ancient Egyptian living, from mummification to making papyrus.
An eye-opening and endlessly entertaining companion volume to Temples, Tombs, and Hieroglyphs, Mertz's extraordinary history of ancient Egypt, Red Land, Black Land offers readers a brilliant display of rich description and fascinating edification. It brings us closer than ever before to the people of a great lost culture that was so different from—yet so surprisingly similar to—our own.
About the Author
Barbara Mertz is a New York Times bestselling author who writes the popular Amelia Peabody mystery series under the pen name Elizabeth Peters and romantic suspense novels as Barbara Michaels. She was born and brought up in Illinois and earned her Ph.D. in Egyptology from the University of Chicago's famed Oriental Institute. Named Grand Master at the inaugural Anthony Awards in 1986 and Grand Master by the Mystery Writers of America at the Edgar Awards in 1998, she lives in a historic farmhouse in western Maryland.
or
Not Currently Available for Direct Purchase