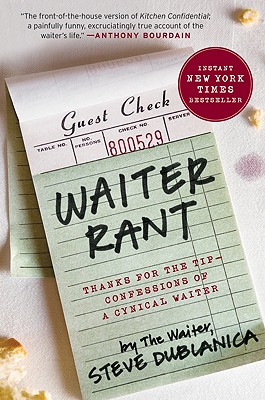 Waiter Rant (Paperback)
Harper Perennial, 9780061256691, 336pp.
Publication Date: July 21, 2009
Description
According to The Waiter, 80 percent of customers are nice people just looking for something to eat. The remaining 20 percent, however, are socially maladjusted psychopaths.
Eye-opening, outrageous, and unabashed--replete with tales of customer stupidity, arrogant misbehavior, and unseen tidbits of human grace in the most unlikely places--Waiter Rant presents the server's unique point of view, revealing surefire secrets to getting good service, proper tipping etiquette, and ways to ensure that your waiter won't spit on your food.
Praise For Waiter Rant…
"…amusing and informative…along with the stories, some of which are hilarious, Dublanica provides useful advice for the customer...Waiter Rant is as delightful as it is irreverent."
-Washington Post Book World

"Writing a best-seller is a big deal, and the Waiter deserves a 20% tip for serving up such a fun summer read."
-Forbes.com

"Anyone that has ever eaten in a restaurant is going to want to grab [this book]."
-Matt Lauer, The Today Show

"For enlightenment on how to handle such situations, I reached out to The Waiter. You know, the New York City-based guy who created the wildly entertaining Waiter Rant blog, which is now a cannot-put-it-down book."
-Seattle Post-Intelligencer

"…here is my unabashed recommendation: If you eat out with any regularity, read this book!"
-Chicago Sun-Times

"Waiter Rant has all the fixings for fun....What Anthony Bourdain's tell-all about life in the kitchen did for Hollandaise sauce, Waiter Rant will do for side salads."
-Los Angeles Times

"Lucky for the reader, The Waiter has kept his eyes open and is willing to gossip about what he has seen from the other side of the menu."
-Tampa Tribune

"…funny and touching."
-Chicago Tribune

"Fortunately, The Waiter (who has since outed himself as a chap called Steve Dublanica) does more in this book than get even; he provides thoughtful insights into how the restaurant business works."
-Bloomberg News

The front-of-the-house version of Kitchen Confidential; a painfully funny, excruciatingly true-life account of the waiter's life. As useful as it is entertaining.
-Anthony Bourdain

"Extremely funny, no-nonsense and insightful."
-New York Times Book Review

"The main attraction here is [Dublanica's] acerbic, biting and often hilarious accounts of life behind the scenes at the front of the house."
-Wall Street Journal
Advertisement