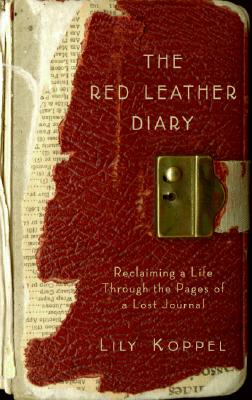 The Red Leather Diary (Hardcover)
Reclaiming a Life Through the Pages of a Lost Journal
Harper, 9780061256776, 336pp.
Publication Date: April 8, 2008
Other Editions of This Title:
Paperback (1/20/2009)
* Individual store prices may vary.
Description
Rescued from a Dumpster on the Upper West Side of Manhattan, a discarded diary brings to life the glamorous, forgotten world of an extraordinary young woman.
For more than half a century, the red leather diary lay silent, languishing inside a steamer trunk, its worn cover crumbling into little flakes. When a cleaning sweep of a New York City apartment building brings this lost treasure to light, both the diary and its owner are given a second life.
Recovered by Lily Koppel, a young writer working at the New York Times, the journal paints a vivid picture of 1930s New York—horseback riding in Central Park, summer excursions to the Catskills, and an obsession with a famous avant-garde actress. From 1929 to 1934, not a single day's entry is skipped.
Opening the tarnished brass lock, Koppel embarks on a journey into the past, traveling to a New York in which women of privilege meet for tea at Schrafft's, dance at the Hotel Pennsylvania, and toast the night at El Morocco. As she turns the diary's brittle pages, Koppel is captivated by the headstrong young woman whose intimate thoughts and emotions fill the pale blue lines. Who was this lovely ingénue who adored the works of Baudelaire and Jane Austen, who was sexually curious beyond her years, who traveled to Rome, Paris, and London?
Compelled by the hopes and heartaches captured in the pages, Koppel sets out to find the diary's owner, her only clue the inscription on the frontispiece—"This book belongs to . . . Florence Wolfson." A chance phone call from a private investigator leads Koppel to Florence, a ninety-year-old woman living with her husband of sixty-seven years. Reunited with her diary, Florence ventures back to the girl she once was, rediscovering a lost self that burned with artistic fervor.
Joining intimate interviews with original diary entries, Koppel reveals the world of a New York teenager obsessed with the state of her soul and her appearance, and muses on the serendipitous chain of events that returned the lost journal to its owner. Evocative and entrancing, The Red Leather Diary re-creates the romance and glitter, sophistication and promise, of 1930s New York, bringing to life the true story of a precocious young woman who dared to follow her dreams.
About the Author
Lily Koppel writes for the New York Times and other publications. She lives in New York City.
Praise For The Red Leather Diary: Reclaiming a Life Through the Pages of a Lost Journal…
"Skillful reporting, fine prose and [an] excellent eye for period detail. . . . A story about not one but two lovable characters—and the city that brought them together."
— New York Times Book Review

"Florence's life reads like E.L. Doctorow's Ragtime in places, with all the famous paths crossed and situations experienced; while descriptions of city life recall Marjorie Hart's Summer at Tiffany... Together, Koppel and Florence take readers through a world dizzy with new ideas, rhythms and inventions."
— BookPage

"After a front-page story appeared in the New York Times Sunday City section, interest in Florence's fascinating story prompted the author to write a full-length book that works as both a biography and a spellbinding glimpse into a vanished era."
— Booklist

"Koppel's love of New York is obvious in the details she draws from Florence's diary, which show how the city has changed in ways both big and small. An entertaining and enjoyable work."
— Library Journal

"In The Red Leather Diary, Lily Koppel finds an old journal in a Dumpster, gets lost in its rich take on 1930s New York and, improbably, tracks down the now-90-year-old woman whose life—real and imagined—fills its worn pages."
— Reader's Digest (Editors' Choice)

"New York Times writer Lily Koppel's The Red Leather Diary melds three life-affirming subjects—Florence Wolfson's journal of life in 1930s Manhattan, Koppel's discovery of it in a Dumpster decades later, and the meeting of the two women—into one enchanting memoir."
— Elle

"Sparked by a felicitous discovery in an Upper West Side dumpster, New York Times writer Lily Koppel spins an enthralling true fairy tale about a Depression-era ingénue."
— Vogue

"A window into a fascinating and privileged world. . . . Rewarding."
— Publishers Weekly

"THE RED LEATHER DIARY is a fascinating book—inventive and inspiring."
— Erica Jong, #1 New York Times bestselling author of Fear of Flying
or
Not Currently Available for Direct Purchase