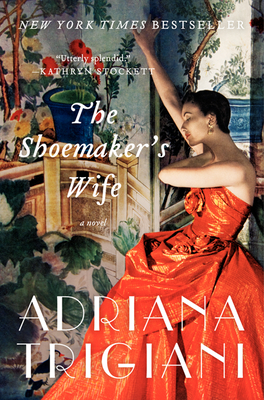 The Shoemaker's Wife (Paperback)
A Novel
Harper Paperbacks, 9780061257100, 496pp.
Publication Date: August 21, 2012
Other Editions of This Title:
Digital Audiobook (9/3/2012)
CD-Audio (3/12/2013)
Hardcover (4/3/2012)
Compact Disc (4/3/2012)
Paperback (8/30/2012)
Paperback (5/1/2012)
* Individual store prices may vary.
Description
Beloved New York Times bestselling author Adriana Trigiani returns with the most epic and ambitious novel of her career—a breathtaking multigenerational love story that spans two continents, two World Wars, and the quest of two star-crossed lovers to find each other again. The Shoemaker's Wife is replete with the all the page-turning adventure, sumptuous detail, and heart-stopping romance that has made Adriana Trigiani, "one of the reigning queens of women's fiction" (USA Today). Fans of Trigiani's sweeping family dramas like Big Stone Gap and Lucia, Lucia will love her latest masterpiece, a book Kathryn Stockett, author of The Help, calls "totally new and completely wonderful: a rich, sweeping epic which tells the story of the women and men who built America dream by dream."

About the Author
Beloved by millions of readers around the world for her "dazzling" novels, (USA Today) Adriana Trigiani is "a master of palpable and visual detail" (Washington Post) and "a comedy writer with a heart of gold" (New York Times). She is the New York Times bestselling author of eighteen books in fiction and nonfiction, published in 38 languages, making her one of the most sought after speakers in the world of books today.
Adriana is also an award-winning film director and screenwriter, playwright, and television writer and producer. Her screen adaptation of her bestselling novel Very Valentine premiered on Lifetime television in June 2019, launching their National Book Club. In 2018, she directed the feature film Then Came You, filmed on location in the Highlands of Scotland. She wrote and directed the award-winning major motion picture Big Stone Gap, based on her debut novel, filmed entirely on location in her Virginia hometown. Big Stone Gap spent 11 weeks in theatres in the fall of 2015 and was the #2 top-grossing romantic comedy of the year. She wrote and directed the documentary film, Queens of the Big Time, winner of the Audience Award at the Hamptons and Palm Springs International Film Festivals. Adriana co-founded The Origin Project, an in-school writing program which serves over 1,700 students in the Appalachian Mountains of Virginia. She lives in New York City with her family.
Join Adriana on Facebook and Instagram @AdrianaTrigiani or visit her website: AdrianaTrigiani.com
Praise For The Shoemaker's Wife: A Novel…
"Within the pages of this novel, Trigiani's 10th, is a gloriously romantic yet sensible world that seamlessly blends practicality and beauty…built around the staggering cultural and social changes the war years swept in…. Trigiani's very best…exquisite writing and a story enriched by the power of abiding love."
— USA Today

"I've always loved reading Trigiani, but [this] is something totally new and completely wonderful: a rich, sweeping epic which tells the story of the women and men who built America dream by dream. If you're meeting her work for the first time, get ready for a lifelong love affair. Splendid."
— Kathryn Stockett, #1 New York Times bestselling author of The Help

"The breathtaking… historical novel sparkles in exquisite details and vivid descriptions."
— Huffington Post

"[A] great read….Bella."
— People

"Pure pleasure . . . full-bodied and elegantly written."
— Washington Post Book World

"You'll have trouble putting this novel down."
— Richmond Times-Dispatch

"The novel is a sweeping epic, but at its heart, it's a love story. It speaks to an era of possibilities."
— Providence Journal

"Trigiani's page-turning newest… is a sweeping saga… More than an epic romance, Trigiani's work pays homage to the tribulations of the immigrant experience, and the love that makes the journey and hardships worthwhile."
— Publishers Weekly

"This expansive epic, which seems tailor-made for a miniseries, manages to feel both old-fashioned and thoroughly contemporary…[an] irresistible love story."
— Booklist

"Trigiani's gift for using vivid details to create a strong sense of place and her warm affection for her characters will make this a satisfying read for her many fans."
— Library Journal

…an old-fashioned, romantic tale of two star-tangled lovers...but also a paean to artisanal work, food, friendship and family…Trigiani is a master of palpable and visual detail.
— Washington Post
The novel is split into three parts: Italian Alps, Manhattan and Minnesota. How would you characterize Ciro and Enza in each of these sections? How do they adapt to their new homes? In what ways did they change over the course of the novel? In what ways did they remain the same?
How would the course of both Ciro's and Enza's lives have been different if they hadn't gone to America? Do you think they would have ended up together if they had stayed on the mountain?
Enza and Ciro shared their first kiss beside Stella's grave. In what ways did digging the grave open up Ciro's heart?
When Ciro opened up his duffle bag on the ship to America, "the fragrance of the convent laundry—lavender and starch—enveloped him, fresh as the mountain air of Vilminore" (p. 120). What other aspects of convent life stayed with Ciro and Eduardo after they left? What did they learn from the sisters?
Enza "found a best friend in Laura, but so much more" (p. 195). What do you think made Laura and Enza's bond so deep from the beginning? In what ways did they support one another?
Did anything surprise you about the characterization of Enrico Caruso? How would you describe his relationship with those around him? How did the time he spent with Enza and Laura affect them, even decades later?
How does The Shoemaker's Wife portray the immigrant experience? Do any of your own families have a similar immigrant history? Did they have a different experience?
Enza and Ciro have different views of religion. In what ways do their beliefs shape their actions and relationship?
How do you think Enza's life would have turned out if she had married Vito? If Ciro had married Felicitá? What did Vito and Felicitá offer them and what did they lack?
Carlo Lazzari warned Eduardo to "beware the things of this world that can mean everything or nothing". In what ways did this advice ring true throughout the novel?
What effect did fighting in the Great War have on Ciro? Do you believe he returned to Manhattan a changed man, or did the war just force him to acknowledge what he had known all along?
When Ciro saw Enza on the steps of Our Lady of Pompeii church, moments away from marrying Vito, "it seemed like fate was on his side." Do you believe that fate brought Ciro and Enza together on that day? Overall, do you believe that Ciro and Enza were destined to be together?
Enza once said to Ciro: "I remind you, I imagine, of things you'd rather not think about." What do you believe Enza meant by this? What challenges did Ciro and Enza face in their relationship? How did they differ in their ways of communicating?
How did Ciro, Enza and Antonio each react to Ciro's diagnosis? What were Ciro's fears and hopes for his family? In what ways will Enza and Antonio fulfill his dreams?
At the end of the novel, Enza agrees to return to Italy with Antonio and Angela. How do you imagine the reunion between Enza and her family? How will Schilpario be different for Enza when seen through Angela and Antonio's eyes?
Read "Realizing the American Dream, a Book Club Discussion" by Reading Group Choices' Neely Kennedy for discussible topics and themes!