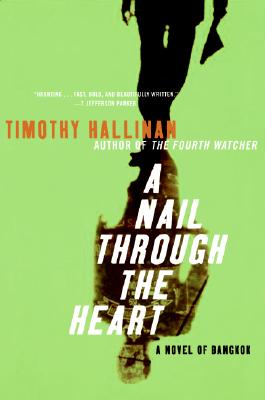 A Nail Through the Heart: A Novel of Bangkok (Paperback)
A Novel of Bangkok
Harper Paperbacks, 9780061257223, 339pp.
Publication Date: June 24, 2008
Description
Poke Rafferty was writing offbeat travel guides for the young and terminally bored when Bangkok stole his heart. Now the American expat is assembling a new family with Rose, the former go-go dancer he wants to marry, and Miaow, the tiny, streetwise urchin he wants to adopt. But trouble in the guise of good intentions comes calling just when everything is beginning to work out. Poke agrees to take in Superman, Miaow's troubled and terrifying friend from the gutter. Then he agrees to help locate a distraught Aussie woman's missing uncle and accepts a generous payment to find a blackmailing thief. No longer gliding carelessly across the surface of a culture he doesn't really understand, suddenly Poke is plodding through dark and unfamiliar terrain--and everything and everyone he loves is in terrible danger.
Praise For A Nail Through the Heart: A Novel of Bangkok…
"(A) tale of blackmail, extortion and revenge...spinning along at a speedy clip."
-Washington Post

"Excellent. The rich depictions of Bangkok's seedy side recall John Burdett's visceral mysteries."
-Publishers Weekly

"Vibrant, deftly drawn characters...well-crafted...and ultimately entertaining."
-Kirkus Reviews

"Excellent. This is a twisted story. You can read and read. And never imagine the end."
-Contra Costa Times

"A haunting novel...It's fast, bold, disturbing and beautifully written. Hallinan is terrific."
-T. Jefferson Parker

"Exhilarating."
-Bookcrossing.com

"Brilliantly conceived and beautifully rendered...Artful, compelling and entertaining. Kudos to Hallinan for an exceptional story."
-Perfecttext.com

"A page-turner."
-Bookgasm.com

"Rich with detail and sympathetic characters. From a very talented writer."
-The Brown Bookloft

"Well constructed, lively...full of misdirection, surprises, humor. A well-paced thriller.
-Popmatters.com

"Timothy Hallinan is a tremendous writing talent. An entertaining read."
-Bestsellersworld.com

"A page turner. Dark, thrilling and unforgettable, A NAIL THROUGH THE HEART is a journey you won't soon forget."
-Popsyndicate.com

"Dark and captivating. Sure to keep you guessing--and it'll leave you wanting to read more from this talented author."
-Nightsandweekends.com

"Terrific...this series has the potential to captivate readers for a long time to come."
-Mysterious News

"A well-written, fast paced, beautifully drawn thriller."
-I Love A Mystery newsletter

"Definitely worth a visit. Will keep you on the edge of your seat and clamoring for Hallinan's next book."
-Montgomery Advertiser
Advertisement