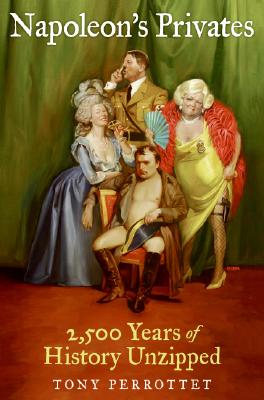 Napoleon's Privates: 2,500 Years of History Unzipped (Hardcover)
2,500 Years of History Unzipped
HarperEntertainment, 9780061257285, 238pp.
Publication Date: July 1, 2008
* Individual store prices may vary.
or
Not Currently Available for Direct Purchase
Description
When Tony Perrottet heard that Napoleon's "baguette" had been stolen by his disgruntled doctor a few days after the Emperor's death, he rushed out to New Jersey. Why? Because that's where an eccentric American collector who had purchased Napoleon's member at a Parisian auction now kept the actual relic in an old suitcase under his bed.
The story of Napoleon's privates triggered Perrottet's quest to research other such exotic sagas from history, to discover the actual evidence behind the most famous age-old mysteries: Did Churchill really send condoms of a surprising size to Stalin? Were champagne glasses really molded upon Marie Antoinette's breasts? What was JFK's real secret service? What were Casanova's best pickup lines? Napoleon's Privates is filled with offbeat, riotously entertaining anecdotes that are guaranteed to amaze, shock, and enliven any dinner party.
Praise For Napoleon's Privates: 2,500 Years of History Unzipped…
"Tony Perrottet's sinfully entertaining survey of perversion."
-Salon.com

"It's refreshing to find such an entertaining writer whose history is also meticulously researched. Perrottet's take on the past is erudite, original and witty -- even, frequently, hilarious."
-Paul Cartledge, Professor of Classics, Cambridge University

"A terrifically funny writer; this history-cum-travelogue is as enjoyable as it is informative and twice as quirky."
-Boston Globe on Pagan Holiday

"An appealing...mix of the zany and the arcane."
-New York Times on Pagan Holiday

"A whimsical trek through classical history, famous sites and arcane trivia."
-Washington Post on Pagan Holiday

"Required reading...a charming popular history of ancient Roman sight-seeing."
-Forbes on Pagan Holiday

"A fascinating and often humorous look at a world long gone and the tourist culture that has grown up around it. Perrottet's writing sparkles with descriptions of modern and ancient misadventures."
-Library Journal on Pagan Holiday

"Brimming with humor, adventure, anecdotal tidbits, and fascinating historical information."
-Booklist on Pagan Holiday

"Combining a wealth of vivid details with a knack for narrative pacing and subtle humor, Perrottet (Pagan Holiday) renders a striking portrayal of the Greek Olympics and their role in the ancient world…It's an entertaining, edifying account that puts a human face on one of humanity's most remarkable spectacles."
-Publishers Weekly on The Naked Olympics

"This lively account of the classical Olympics portrays them as "the Woodstock of antiquity," and claims that the Games, while taken seriously, were also where Greeks gathered for a five-day debauch."
-The New Yorker on The Naked Olympics

"The Naked Olympics presents the Greeks in all their glory, brutality, and vulgarity. It is a fascinating picture and popular history at its best."
-Norman Cantor, Professor Emeritus, New York University, and author of Antiquity: The Civilization of the Ancient World

"Brimming with humor, adventure, anecdotal tidbits, and fascinating historical information, this delightful travelogue offers a unique twist on some classic journeys."
-Booklist on Pagan Holiday
Advertisement