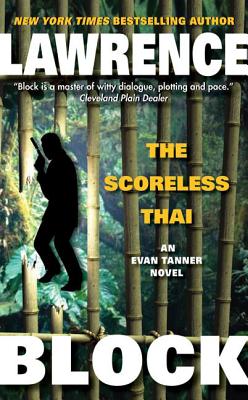 The Scoreless Thai (Evan Tanner #4) (Paperback)
Harper, 9780061259395, 240pp.
Publication Date: July 31, 2007
* Individual store prices may vary.
Description
Evan Tanner can't sleep. Ever. Which gives him plenty of free time to get involved in lots of interesting endeavors in all sorts of exotic locales.
Now Tanner's in Thailand with a partially baked plan and a butterfly net, hoping to snare a beautiful missing chanteuse who's metamorphosed into an international jewel thief. Tanner hopes everyone will buy his disguise as a rare butterfly researcher. And everyone does . . .
Except the guerilla band holding him captive. They intend to remove his head when the sun rises, so Tanner must put his fate in the hands of a randy Thai youth who will do anything for a woman, even set a suspected spy free. Soon they're running through the jungle together, chased by bandits, soldiers, and yellow fever, and racing headlong into the heart of darkness—and into the flames of war.
About the Author
Lawrence Block is one of the most widely recognized names in the mystery genre. He has been named a Grand Master of the Mystery Writers of America and is a four-time winner of the prestigious Edgar and Shamus Awards, as well as a recipient of prizes in France, Germany, and Japan. He received the Diamond Dagger from the British Crime Writers' Association—only the third American to be given this award. He is a prolific author, having written more than fifty books and numerous short stories, and is a devoted New Yorker and an enthusiastic global traveler.
or
Not Currently Available for Direct Purchase