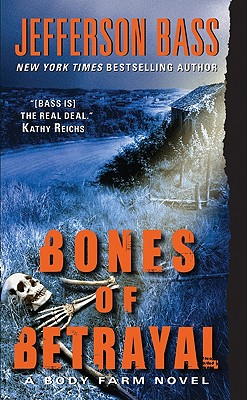 Bones of Betrayal: A Body Farm Novel (Mass Market Paperback)
A Body Farm Novel
Harper, 9780061284755, 352pp.
Publication Date: January 1, 2010
* Individual store prices may vary.
or
Not Currently Available for Direct Purchase
Description
Forged in the crucible of World War II, Oak Ridge, Tennessee, was a top-secret military installation—the linchpin of the Manhattan Project. Brilliant careers were born and dark secrets buried in the desperate race to build the Bomb. Those secrets begin to emerge when the body of a renowned physicist is discovered . . .
Forensic anthropologist Bill Brockton, founder of the Body Farm, is shocked when an autopsy reveals the cause of Dr. Leonard Novak's death: a deadly radioactive pellet inside the elderly scientist's body. Who would commit such a horrific crime? Is it related to Novak's role in creating America's deadliest weapon? The answers may lie with the victim's aging ex-wife, Beatrice, a captivating, yet utterly unreliable storyteller. Careening between history and fantasy, dementia and lucidity, Beatrice draws Brockton into a maze of memories, leading him to darker truths than he could have imagined.
Praise For Bones of Betrayal: A Body Farm Novel…
"Bones of Betrayal has more than its share of twists, turns, and red herrings....Wartime Oak Ridge proves nearly as atmospheric a crime scene as Sam Spade's San Francisco or Philip Marlowe's L.A."
-Wilmington Star News

"This series...just keeps getting better. [Bones of Betrayal] features both the most compelling story and the best portrayal yet of Brockton, who has completed the transition from fictional representation of coauthor Bass to fully realized protagonist."
-Booklist

"The forensic thriller meets a formidable slice of history in Jefferson Bass's impressive new novel....In addition to being a riveting mystery with an intricately emotional conclusion, Bones of Betrayal bears witness to the past with great respect for the long shadow it casts."
-Washington Post
Advertisement