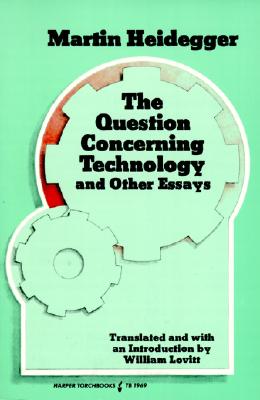 The Question Concerning Technology, and Other Essays (Paperback)
Harper Perennial, 9780061319693, 224pp.
Publication Date: February 1, 1982
Other Editions of This Title:
Paperback (12/3/2013)
* Individual store prices may vary.
Description
"To read Heidegger is to set out on an adventure. The essays in this volume--intriguing, challenging, and often baffling to the reader--call him always to abandon all superficial scanning and to enter wholeheartedly into the serious pursuit of thinking....
"Heidegger is not a 'primitive' or a 'romanitic.' He is not one who seeks escape from the burdens and responsibilities of contemporary life into serenity, either through the re-creating of some idyllic past or through the exalting of some simple experience. Finally, Heidegger is not a foe of technology and science. He neither disdains nor rejects them as though they were only destructive of human life.
"The roots of Heidegger's hinking lie deep in the Western philosophical tradition. Yet that thinking is unique in many of its aspects, in its language, and in its leterary expression. In the development of this thought Heidegger has been taught chiefly by the Greeks, by German idealism, by phenomenology, and by the scholastic theological tradition. In him these and other elements have been fused by his genius of sensitivity and intellect into a very individual philosophical expression." --William Lovitt, from the Introduction
or
Not Currently Available for Direct Purchase