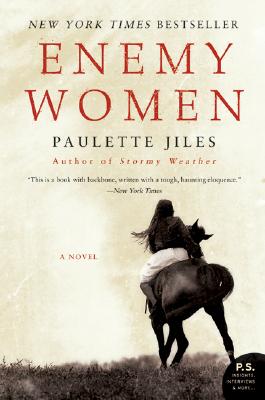 Enemy Women
A Novel
Paperback

* Individual store prices may vary.
Other Editions of This Title:
Digital Audiobook (10/12/2020)
Compact Disc (10/13/2020)
MP3 CD (10/13/2020)
Audio cassette (1/21/2003)
Paperback (2/1/2003)
Hardcover (2/5/2002)
Description
From the Author of the National Book Award Finalist News of the World
Good Morning America Book Club Pick
For the Colleys of southeastern Missouri, the War between the States is a plague that threatens devastation, despite the family's avowed neutrality. For eighteen-year-old Adair Colley, it is a nightmare that tears apart her family and forces her and her sisters to flee. The treachery of a fellow traveler, however, brings about her arrest, and she is caged with the criminal and deranged in a filthy women's prison.
But young Adair finds that love can live even in a place of horror and despair. Her interrogator, a Union major, falls in love with her and vows to return for her when the fighting is over. Before he leaves for battle, he bestows upon her a precious gift: freedom.
Now an escaped "enemy woman," Adair must make her harrowing way south buoyed by a promise . . . seeking a home and a family that may be nothing more than a memory.
Praise For Enemy Women: A Novel…
"ENEMY WOMEN deserves the Pulitzer Prize."
— Toronto Globe and Mail

"I loved…it provides the greatest suspense a story can offer: will someone we've come to love persevere and prosper?"
— Anna Quindlen

"…remarkable happens...it becomes inspired… Adair becomes a storyteller in order to survive. And so - triumphantly - does Paulette Jiles."
— New York Times Book Review (cover)

"This is a book with backbone, written with tough, haunting eloquence."
— New York Times

"Jiles paints the struggles of the era with the same intensity as Charles Frazier's 1997 bestseller Cold Mountain …"
— People

"Sure to be touted as a new COLD MOUNTAIN...stark, unsentimental, yet touching novel will not suffer in comparison."
— Publishers Weekly (starred review)

"A remarkable debut… Splendid."
— Kirkus Reviews (starred review)

"…beautifully written passages…a real page-turner."
— Milwaukee Journal Sentinel

"...[G]ifted Missouri historian...acutely portrays Missouri's logistic misfortune as a hotbed of both Union and Confederate violence."
— Booklist

"Enemy Women is all strength and poetry, as are history's grandest ordinary women and extraordinary writing."
— Kaye Gibbons

"You know what it means when there is Paulette Jiles inside? Be smart. Open the book."
— Gordon Lish

"ENEMY WOMEN...has a Homeresque feel to it. Like something written by an old soul."
— Carolyn Chute

"Jiles has created an unsentimental yet tender world of destruction, despair, and hope that's a joy to inhabit."
— Entertainment Weekly

"Comparing Enemy Women to Cold Mountain doesn't quite do Jiles's novel justice."
— Washington Post
William Morrow Paperbacks, 9780061337635, 352pp.
Publication Date: April 10, 2007
About the Author
Paulette Jiles is a novelist, poet, and memoirist. She is the author of Cousins, a memoir, and the novels Enemy Women, Stormy Weather, The Color of Lightning, Lighthouse Island, and News of the World, which was a finalist for the 2016 National Book Award. She lives on a ranch near San Antonio, Texas.