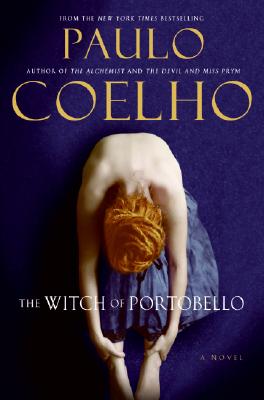 The Witch of Portobello (Hardcover)
HarperOne, 9780061338809, 288pp.
Publication Date: May 15, 2007
Other Editions of This Title:
Digital Audiobook (11/26/2007)
Paperback (2/5/2008)
Paperback, Large Print (5/15/2007)
CD-Audio (5/15/2007)
Hardcover (4/1/2007)
* Individual store prices may vary.
Description
How do we find the courage to always be true to ourselves—even if we are unsure of whom we are?
That is the central question of international bestselling author Paulo Coelho's profound new work, The Witch of Portobello. It is the story of a mysterious woman named Athena, told by the many who knew her well—or hardly at all. Among them:
"People create a reality and then become the victims of that reality. Athena rebelled against that—and paid a high price."
Heron Ryan, journalist

"I was used and manipulated by Athena, with no consideration for my feelings. She was my teacher, charged with passing on the sacred mysteries, with awakening the unknown energy we all possess. When we venture into that unfamiliar sea, we trust blindly in those who guide us, believing that they know more than we do."
Andrea McCain, actress

"Athena's great problem was that she was a woman of the twenty-second century living in the twenty-first, and making no secret of the fact, either. Did she pay a price? She certainly did. But she would have paid a still higher price if she had repressed her natural exuberance. She would have been bitter, frustrated, always concerned about 'what other people might think,' always saying, 'I'll just sort these things out, then I'll devote myself to my dream,' always complaining 'that the conditions are never quite right.'"
Deidre O'Neill, known as Edda
Like The Alchemist, The Witch of Portobello is the kind of story that will transform the way readers think about love, passion, joy, and sacrifice.
About the Author
Paulo Coelho, born in Rio de Janeiro in 1947, is one of the bestselling and most influential authors in the world. The Alchemist, The Pilgrimage, The Valkyries, Brida, Veronika Decides to Die, Eleven Minutes, The Zahir, The Witch of Portobello, The Winner Stands Alone, Aleph, Manuscript Found in Accra, and Adultery, among others, have sold over 175 million copies worldwide, and The Alchemist has been on the New York Times bestseller list for over 360 weeks.
Paulo Coelho has been a member of the Brazilian Academy of Letters since 2002, and in 2007, he was appointed United Nations Messenger of Peace. He is also the most followed author on social media.
or
Not Currently Available for Direct Purchase