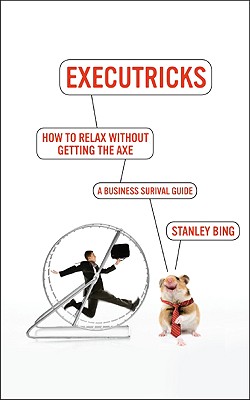 How to Relax Without Getting the Axe: A Survival Guide to the New Workplace (Paperback)
A Survival Guide to the New Workplace
Harper Paperbacks, 9780061340369, 177pp.
Publication Date: December 1, 2009
Description
"Nobody pricks corporate balloons better than Stanley Bing."
--New York Post
The ultimate satirist of corporate America, bestselling author Stanley Bing (Sun Tzu Was a Sissy, Crazy Bosses) now offers an outrageous "Survival Guide to the New Workplace" with How to Relax Without Getting the Axe--an eminently useful handbook that shows you how to retire on the job while still taking up (window) office space and drawing a huge salary. Succeeding in business without really trying is easy the Bing way. How to Relax Without Getting the Axe shows you all the ins and outs, while proving correct the assessment of popular radio host Don Imus that, "Bing is hilarious "
Praise For How to Relax Without Getting the Axe: A Survival Guide to the New Workplace…
"Bing is hilarious!"
-Don Imus

"A masterful curmudgeon who causes laugh-out-loud moments."
-USA Today

"Nobody pricks corporate balloons better than Stanley Bing."
-New York Post
Advertisement