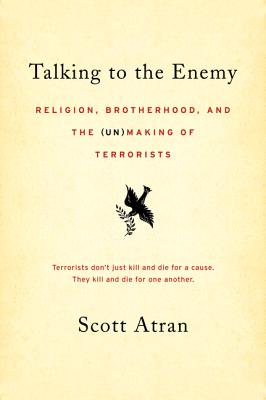 Talking to the Enemy: Religion, Brotherhood, and the (Un)Making of Terrorists (Paperback)
Religion, Brotherhood, and the (Un)Making of Terrorists
Ecco Press, 9780061344916, 558pp.
Publication Date: November 1, 2011
* Individual store prices may vary.
or
Not Currently Available for Direct Purchase
Description
An illuminating work of religious and cultural anthropology, Talking to the Enemy traces terrorisms root causes in human evolution and history, touching on the nature of faith, the origins of society, the limits of reason, and the power of moral values.
Through rigorous fieldwork and nuanced investigation, Scott Atran reminds us that terrorists are social beings influenced by the interpersonal bonds, connections, and values familiar to us all. When individuals combine notions of the homeland, a family of friends, and a band of brothers with the zeal of belief, they are capable of amazing things, both good and bad: the ancient Jewish resistance to Rome; the revolutionary founding of America; the formation of Al-Qaeda and the resulting fear by so many of so few.
A brilliant study of the social and psychological mechanisms that lead to terrorism, Talking to the Enemy rejects popular misconceptions about suicide bombers, radical Islam, and the relationship between religion and war. Atrans surprising and insightful conclusions show how our tolerance of faith enables extremists to flourish and why atheism and science education have little effect, while providing a path for deradicalization. A timely and provocative work, Talking to the Enemy offers solutions to help us to identify terrorists today, prevent the creation of future terrorists, and ultimately make the world a safer place for everyone.
Praise For Talking to the Enemy: Religion, Brotherhood, and the (Un)Making of Terrorists…
"Talking to the Enemy is Atran's impassioned call for evidence-based policy, but it's also an ambitious survey of culture and violence. Research is the trump card here, played often and well."
-David Shariatmadari, The Guardian

"Talking to the Enemy is about far more than violent extremism. One of the most penetrating works of social investigation to appear in many years, it offers a fresh and compelling perspective on human conflict. "
-John Gray, Literary Review

"Talking to the Enemy is recommendable not just for its vivid insights into the motivation of terrorists, butalso for its study of Islamic radicalisation and the anthropology of religion in general."
-Michael Bond, New Scientist

"Talking to the Enemy is an important book, by turns fascinating, dense, scientific, debatable, illuminating."
-David Aaronovitch, The Times

"Scott Atran is one of the world's most important and innovative thinkers on the local and global dynamics of violent Islamist extremism. . . . Required reading for those trying to understand and address the problems of terrorism in the 21st century."
-Juan Zarate, Center for Strategic and International Studies, Deputy Assistant to the President and Deputy National Security Advisor for Combating Terrorism 2005 - 2009

"What can be done to undo future jihadist networks? renowned anthropologist Scott Atran has carried out a very thorough study with surprising findings on what motivates those who kill and die."
-Luis Miguel Ariza, El Pais

"Atran has given us a remarkably honest book, demonstrating that down-to-earth field work can give us a far superior understanding of what makes terrorists'tick' than whole armies of armchair counter-terrorist 'experts.'"
-Perspectives on Terrorism

"This deeply researched, wide ranging, and very timely study provides a compelling and often surprising account of what lies behind the jihadi phenomenon . . . . It should be read carefully, and pondered."
-Noam Chomsky

"Atran explores the way terrorists think about themselves and teaches us, at last, intelligent ways to think about terrorists. He puts the threat in perspective and provides keys to winning the fight against violent zealotry."
-Christopher Dickey, Newsweek Middle East Editor and author of SECURING THE CITY

"The stories Atran brings back from talking to jihadists and their supporters are gripping, and the result of his experiments that probe their sacred values are compelling. The insights he gains tell us more than we knew before about what it means to be human."
-Robert Axelrod, Walgreen Professor for the Study of Human Understanding at the University of Michigan, author of The Evolution of Cooperation, and recipient of the National Academy of Sciences Award for Behavioral Research Relevant to the Prevention of Nu

"Atran is one of the world's most important thinkers on the local and global dynamics of violent Islamist extremism. His research on what motivates young men to fall prey to violent ideologies is required reading for those trying to understand the problems of terrorism in the 21st century."
-Juan Zarate, Center for Strategic and International Studies, Deputy Assistant to the President and Deputy National Security Advisor for Combating Terrorism 2005 - 2009

"[Atran's] rigorous research not only debunks the claims of pundits who sit lightly to academic discipline but also challenges unscientific attacks on religion by senior scientists. The political implications of his well-grounded analysis are profound but conveyed in an accessible style which left me excited and hopeful."
-John, Lord Alderdice, Chairman of the Liberal Democrat Party in the House of Lords, former Speaker of the Northern Ireland Assembly and President of Liberal International

"A riveting account of the motivational basis of terrorism and field material of rare quality. Dismantling the myths that guide the so called war on terror, he provides the tools to address a global problem rationally and effectively."
-Carlo Strenger, Graduate Chair of Clinical Psychology, Tel Aviv University, and columnist for Ha'aretz

"Scott Atran is one of the very few persons who understand religion and have figured out that religion is not about belief and cannot be naively replaced without severe side effects."
-Nassim Nicholas Taleb, Distinguished Professor, New York University Polytechnic Institute, author of The New York Times bestseller The Black Swan

"Historically keen and astutely humanistic...the author's deep penetration into anthropological explanations of evolution, teamwork, blood sport and war attempt to define what it means to be human."
-Kirkus Reviews

"Recommendable not just for its vivid insights into the motivation of terrorists, but also for its study of Islamic radicalization and the anthropology of religion in general.."
-New Scientist

"A highly readable round-the-world examination of the jihad and its adherents. . . . Atran pieces together the lives and the backgrounds of extremists, offering insightful perspectives by placing contemporary Islamist dissent into a deeper context of human evolutionary history."
-Richard Phelps, Financial Times

"Atran has given us a remarkablly honest book, demonstrating that down-to-earth field work can give us a far superior understanding of what makes terrorists 'tick' than whole armies of armchair counterterroris 'experts.'"
-Alex Schmid, Perspectives on Terrorism

"Atran's intellectual reach is prodigious; his analysis of the underpinnings of terrorism is instructive, if often unconventional; and his provocative prescriptions merit debate and consideration."
-Publishers Weekly

"Sets us and our governments straight about a long list of dubious assumptions. He is sure that we must talk before we shoot, and that we must learn to distinguish real threats from imagined ones."
-Jeremy Harding, London Review of Books
Advertisement