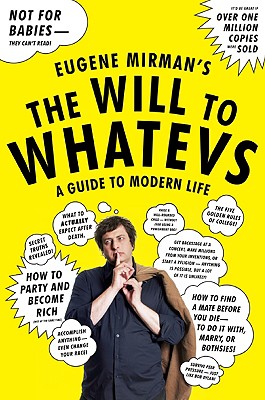 The Will to Whatevs
A Guide to Modern Life
Paperback

* Individual store prices may vary.
Description
No one understands the complexities of modern life better than Eugene Mirman--claims Eugene Mirman—and anyone seeking guidance from a man who has lived through everything (except the Great Depression, the Spanish-American War, and Jerry Lee Lewis's sex scandal) won't resist this charmingly hysterical guidebook.
Become ultra-popular in high school (without "putting out" -- whatever that is)
Discover somewhere between four and two thousand ways to overcome social anxiety (closer to four)
Start a band, become an artist, or disappoint your parents by getting on a reality television show!
Praise For The Will to Whatevs: A Guide to Modern Life…
"When to serve duck confit? What's the haps with sexual harassment? In a world full of questions, the entertaining Eugene Mirman has all the answers."
— —Sarah Vowell, author of Assassination Vacation

"Eugene Mirman is the Andy Warhol of comedy. People look to him for what's next in comedy, and he emails these people back promptly. The Will to Whatevs put me in a great mood because I was laughing out loud. Alone. That's hard to do."
— —Mike Birbiglia

"I laughed out loud reading this. I was reading it in public. Three cute girls at a nearby table laughed at me. I swear one of them mouthed the words, 'fat loser' to her friends. I now hate Eugene Mirman."
— —Patton Oswalt

"Do you need tips on how to live? I mean besides the breathing and eating part? Then this book is for you! Including self-help tips for Jewish robots from the future (I'm guessing)!!!!!"
— —David Cross

"This book is good, and not just because it was free. Knowing what I know now about the quality, I would have paid at least nine thousand dollars."
— —David Willis

"A work of penetrating insight and rigorous scholarship. By turning our attention away from the 'will to power' and toward the more deeply significant will to whatevs, Mirman reshapes the debate in a way that will doubtless influence philosophers for generations to come."
— —Joshua Knobe, professor of philosophy and cognitive science at Yale University

"This book is a knee-slapper, a gut-buster, and a side-splitter. Don't read it unless you have health insurance!"
— —Kristen Schaal

"I liked the sh*t out of this book!"
— —Greg Behrendt, author of He's Just Not That Into You

"Reading this book is like having a tiny Eugene riding on your shoulder and whispering his advice in your ear. I agree with Eugene on all aspects of this book except taking acid at an office party. I am never doing that again. Buy this book."
— —Zach Galifianakis

"At last, now, you can be truly happy, the MIRMAN WAY. Just be sure to adjust your rubber mask eye holes to 'READ MODE,' or else this book will not help you."
— —John Hodgman, author of The Areas of My Expertise and More Information Than You Require

"Armed with eccentric wit and charm, the Russian-born comedian offers compelling insights on contemporary living, from starting a band to high-school social etiquette."
— —The Austin Decider

"Easily as hilarious as Mirman's stellar stand-up comedy, featuring meta pull-quote jokes, funny author blurbs from other comics and indispensable wisdom."
— —The Austin American-Statesman

"A freewheeling mix of bemused ironies and trenchantly silly non-sequiturs."
— —The Boston Phoenix

"Eugene Mirman is a very humorous individual. Buy a copy of Eugene's book. You won't regret the purchase."
— —Paste Magazine

"The book is easily as hilarious as Mirman's stellar stand-up comedy, featuring meta pull-quote jokes, and indispensable wisdom."
— —Austin360.com

"It's clear from the get-go that comedian Eugene Mirman's life guide is not your typical self-help manual bent on nurturing the soul with hot soup or some other bullshit, but instead with flat-out humor."
— —Filter Good Music Guide

"Mirman has seamlessly translated his stage sensibility to the page. Which is to say that the king of Brooklyn comedy has written a book that's ridiculous, nonsensical, often rambling and generally pointless—yet will make you laugh out loud with enough frequency to embarrass yourself in front of strangers nearby."
— —Time Out New York

"The Will to Whatevs is one of the funniest things I have read in years. This book delightfully skewers the self-help genre, Mirman reminds me of Woody Allen's prose works with his self-obsessed narrator, witty asides, and non-sequiturs that will leave you reeling."
— —Largehearted Boy

"Whatevs is filled with tons of Mirman's patented laser-targeted yet random as hell asides, and his clip-art illustrations and graphs are truly inspired."
— —CMJ.com

"Whatevs . . . is the type of book you'll want to look up from and quote to whoever is around you."
— —Boston Comedy—Funny Grown Here

"The seasoned standup comic dispenses invaluable, hyperbolic advice in his debut tome, The Will to Whatevs."
— —Flavorpill NYC

"Mirman offers moments of startling clarity: When defending his authority to dish out advice, he writes, "In America, 'authority' is an attitude. And I've adopted it." And earned it."
— —Seattle Weekly
Harper Perennial, 9780061346187, 240pp.
Publication Date: February 10, 2009
About the Author
Eugene Mirman is a New York City-based comedian, writer, and actor. He plays the landlord on HBO's Flight of the Conchords and has a half-hour special on Comedy Central. His first album The Absurd Nightclub Comedy of Eugene Mirman was voted Best of 2004 by Time Out New York and The Onion. He has four hundred children and lives in outer space.