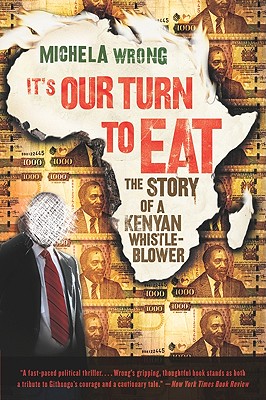 It's Our Turn to Eat (Paperback)
The Story of a Kenyan Whistle-Blower
Harper Perennial, 9780061346590, 368pp.
Publication Date: June 8, 2010
* Individual store prices may vary.
Description
"A fast-paced political thriller.... Wrong's gripping, thoughtful book stands as both a tribute to Githongo's courage and a cautionary tale." —New York Times Book Review
"On one level, It's Our Turn to Eat reads like a John Le Carré novel.... On a deeper and much richer level, the book is an analysis of how and why Kenya descended into political violence." — Washington Post
Called "urgent and important" by Harper's magazine, It's Our Turn to Eat is a nonfiction political thriller of modern Kenya—an eye-opening account of tribal rivalries, pervasive graft, and the rising anger of a prospect-less youth that exemplifies an African dilemma.
About the Author
Michela Wrong has worked as a foreign correspondent for Reuters, the BBC, and the Financial Times. She has written about Africa for Slate.com and is a frequent commentator on African affairs in the media. Her first book, In the Footsteps of Mr. Kurtz, won the James Stern Silver Pen Award for Nonfiction. She lives in London.
Praise For It's Our Turn to Eat: The Story of a Kenyan Whistle-Blower…
"Wrong's book is packed with detail and solid sourcing and tells its story clearly." --Jeffrey Gettleman
— New York Review of Books

"Important and illuminating…Reads like a John Le Carré novel…On a deeper and much richer level, it's an analysis of how and why Kenya descended into political violence."
— Caroline Elkins, Washington Post

"A fast-paced political thriller—with echoes of Graham Greene and John le Carré.... A gripping, thoughtful book."
— New York Times Book Review

"...urgent and important..."
— Harper's Magazine

"A gripping saga…a down-to-earth yet sophisticated expose…a devastating account of how corruption and tribalism reinforce each other."
— The Economist

A solid investigative exposé
— Kirkus Reviews

"Written with the pace of a thriller and a depth of analysis of a nation and a man, this is a compelling look at a nation struggling to overcome its past."
— Booklist

"A gripping profile of an anti-corruption crusader.... Githongo...is a magnetic protagonist for Wrong's expose of the machinery of corruption."
— Publishers Weekly

"A tumultuous journey through the official networks of sleaze that drained billions of dollars from Kenya's coffers... The extent of the fraud, and the level of destruction it wreaked, is shocking…"
— Newsweek International