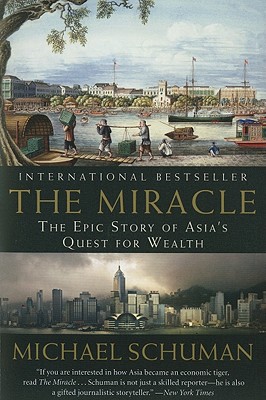 The Miracle: The Epic Story of Asia's Quest for Wealth (Paperback)
The Epic Story of Asia's Quest for Wealth
Harper Paperbacks, 9780061346699, 422pp.
Publication Date: June 29, 2010
Description
"If you are interested in how Asia became an economic tiger, read The Miracle."
--New York Times An international bestseller, The Miracle by business journalist Michael Schuman offers a fascinating exploration of the most meaningful and far-reaching global event since World War II: the economic ascent of the Asian continent. CNN's Wolf Blitzer calls The Miracle, "An amazing story and it's all true," while the New York Times praises Schuman for being, "not just a skilled reporter but] also a gifted journalistic storyteller." The Miracle is essential reading for anyone who truly wants to understand today's--and tomorrow's--world.
Praise For The Miracle: The Epic Story of Asia's Quest for Wealth…
"Well told tale of the most extraordinary economic saga of the past century. Read this and you will quickly grasp that the current slowdown in Asia, at worst, will be very temporary."
-Steve Forbes

"The Miracle tells an amazing story, and it's all true. Michael Schuman has done some world-class reporting in putting together this truly timely account. Everyone has a stake in Asia's economy, and we need to appreciate and understand that, especially at this time of global economic uncertainty."
-Wolf Blitzer

"Schuman writes in the same vein of anecdotal pop-economic analysis as Thomas Friedman, with less grandiosity and more nuance; the result is a thoughtful, reader-friendly look at the crucial economic developments of our age."
-Publishers Weekly

"If you are interested in how Asia became an economic tiger, read The Miracle... Schuman is not just a skilled reporter — he is also a gifted journalistic storyteller."
-New York Times

"A rollicking good yarn."
-Far Eastern Economic Review

"Should be read by anyone who imagines that there is an easy answer to the debate between laissez-faire and interventionist economics."
-The Wall Street Journal

"For readers unfamiliar with the story of Asia's rise, Schuman provides an engaging and readable account of some of Asia's key policy makers, national leaders and business tycoons. It is economics as biography, character as developmental destiny."
-Washington Post
Advertisement