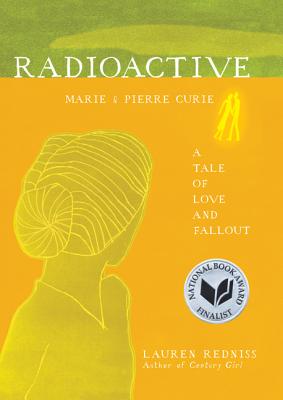 Radioactive (Hardcover)
Marie & Pierre Curie: A Tale of Love and Fallout
It Books, 9780061351327, 208pp.
Publication Date: December 21, 2010
Description
"Radioactive offer innumerable wonders....In this wholly original book about passion and discovery Lauren Redniss has invented her own unique form." --Nicole Krauss, author of Great House and The History of Love "Quite unlike any book I have ever read...sheer imaginative genius." --Malcolm Gladwell Radioactive is the visual journey into the life of Marie Curie, as told through the dazzling collage style of acclaimed author and artist Lauren Redniss. A brilliant visual storyteller, Redniss has hand-designed more than 100 color collages to tell Curie's story, fascinating in its scientific significance and its sometimes whimsical, sometimes haunting mix of romance and intrigue. Bringing together archival photos, images, and clippings with dazzling line drawings and a compelling narrative, Radioactive is far more than just an art book or a graphic novel: It is a stunning visual biography and a true work of art.
Praise For Radioactive: Marie & Pierre Curie: A Tale of Love and Fallout…
"[Radioactive is] a deeply unusual and forceful thing to have in your hands. Ms. Redniss's text is long, literate and supple…Her drawings are both vivid and ethereal…Radioactive is serious science and brisk storytelling. The word 'luminous' is a critic's cliché, to be avoided at all costs, but it fits."
-New York Times

"One of the most beautiful books-as-object that I've ever seen."
-Elizabeth Gilbert, author of Eat, Pray, Love

"[A] sumptuously illustrated visual biography….Radioactive is an incisive look at science's greatest partnership."
-Vogue

"[An] excellent new book."
-Robert Krulwich, NPR

"Radioactive is quite unlike any book I have ever read—part history, part love story, part art work and all parts sheer imaginative genius."
-Malcolm Gladwell

"Absolutely dazzling. Lauren Redniss has created a book that is both vibrant history and a work of art. Like radium itself, Radioactive glows with energy."
-Richard Rhodes, author of The Making of the Atomic Bomb, winner of the Pulitzer Prize

"Radioactive offer innumerable wonders. Colors suddenly bloom into tremendous feeling, history contracts into a pair of elongated figures locked in an embrace, then expands again in an explosive rush of words. In this wholly original book about passion and discovery Lauren Redniss has invented her own unique form."
-Nicole Krauss, author of The History of Love
Coverage from NPR
Advertisement