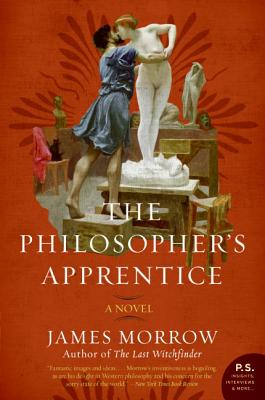 The Philosopher's Apprentice (Paperback)
A Novel
Harper Perennial, 9780061351457, 448pp.
Publication Date: February 3, 2009
Other Editions of This Title:
Hardcover (3/1/2008)
* Individual store prices may vary.
Description
A brilliant philosopher with a talent for self-destruction, Mason Ambrose gratefully accepts an offer no starving ethicist could refuse. He must travel to a private tropical island and tutor Londa Sabacthani, a beautiful, brilliant adolescent who has lost both her memory and her moral sense in a freak accident. Londa's soul is an empty vessel—and Mason's job will be to fill it.
But all is not as it seems on Isla de Sangre. Londa's reclusive mother is secretly sheltering a second child whose conscience is a blank slate. Even as the mystery deepens, Mason confronts a frightening question: What will happen when Londa, her head crammed with lofty ideals and her bank account filled to bursting, ventures out to remake our fallen world in her own image?
About the Author
James Morrow is the author of nine previous novels, including The Last Witchfinder. He lives in State College, Pennsylvania.
Praise For The Philosopher's Apprentice: A Novel…
"[A] tumultuous take on humanity, philosophy and ethics that is as hilarious as it is outlandish . .. [a] wildly ambitious morality play, a shrewd amalgamation of the sacred and the profane. Tips its hat with style to Mary Shelley and George Bernard Shaw."
— Kirkus Reviews

"James Morrow is a wildly imaginative and generous novelist who plays hilarious games with grand ideas."
— New York Times Book Review

"[James Morrow] is an original—stylistically ingenious, savagely funny, always unpredictable."
— Philadelphia Inquirer

"In some ways, [Morrow] reminds me of Mark Twain after the mid-1880s, and even more of Kurt Vonnegut. Like them, Morrow writes with a penetrating moral vision."
— Fort Worth Star-Telegram

"[Morrow's] valorization of reason together with his acute sense of comic absurdity have long made him a favorite of intellectuals . . . who see him in the tradition of Twain and Vonnegut."
— Locus

"One of America's premier comic novelists and satirists. . . . Morrow is long overdue for a mainstream audience."
— Denver Post

"Morrow may not mention Diderot, but in many ways Morrow is a successor to that finest of Enlightenment thinkers, a man who believed that literature and philosophy marched hand in hand and who was not afraid to discuss serious matters in a comic tone. Enthusiastically recommended for all libraries."
— Library Journal (starred review)

"Morrow is an inventive writer possessing a fine comic sensibility; the story is infused with wit and brio."
— Library Journal (starred review)

"Morrow is a good as anybody at dramatizing the notion that ideas can both kill us and save us, and THE PHILOSOPHER'S APPRENTICE may well offer about as many provocative ideas per chapter as we'll see in any novel this year."
— Gary K. Wolfe, Locus

"This novel [is] one of Morrow's best . . . the creative exuberances of THE PHILOSOPHER'S APPRENTICE are easily justified by the wisdom they support. For a wise novel, then, wittier and better proportioned than most of its predecessors, due praise."
— Nick Gevers, Locus

"Morrow addresses controversial topics without being heavy-handed, and infuses the narrative with a wit that pragmatists and idealists alike will appreciate. A-"
— Entertainment Weekly

"Morrow's world is one where ideas matter so much they come lurching to life as intellectual Frankenstein creatures. In The Philosopher's Apprentice, they are wickedly hilarious – and then they can break our hearts and scare us silly."
— Denver Post

"[I]nventive, entertaining . . . fantastic images and ideas . . . Morrow's inventiveness is beguiling, as are his delight in Western philosophy and his concern for the sorry state of the world."
— New York Times Book Review

"[A] hyperkinetic mishmash of horror story, sci-fi yarn, Renaissance allegory, Greek myth and modern morality tale…rollicking…ingenious…it's the fiction equivalent of a roller coaster ride, where readers are meant to hold on tight and enjoy the giddy thrills of an over-the-top and overeducated plot."
— Maureen Corrigan, NPR's Fresh Air on THE PHILOSOPHER'S APPRENTICE

"Morrow has produced an exemplary novel, one that explores a question central to the human understanding of self...THE PHILOSOPHER'S APPRENTICE is thought experiment as heartbreaking drama–this is what science fiction at its best does."
— St. Louis Post-Dispatch on THE PHILOSOPHER'S APPRENTICE