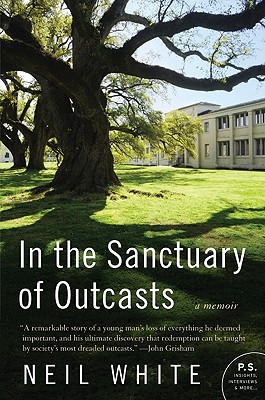 In the Sanctuary of Outcasts (Paperback)
Harper Perennial, 9780061351631, 316pp.
Publication Date: June 1, 2010
Description
"A remarkable story of a young man's loss of everything he deemed important, and his ultimate discovery that redemption can be taught by society's most dreaded outcasts." --John Grisham
"Hilarious, astonishing, and deeply moving." --John Berendt, author of Midnight in the Garden of Good and Evil
The emotional, incredible true story of Neil White, a man who discovers the secret to happiness, leading a fulfilling life, and the importance of fatherhood in the most unlikely of places--the last leper colony in the continental United States. In the words of Pulitzer Prize winner Robert Olen Butler (A Good Scent from a Strange Mountain), White is "a splendid writer," and In the Sanctuary of Outcasts "a book that will endure."
Praise For In the Sanctuary of Outcasts…
"A surprisingly gentle, sometimes hilarious memoir."
-USA Today

"A moving story of growth and transformation. Among the lost, [White] found humility, beauty, courage—and himself. "
-Dallas Morning News

"Vibrant and readable."
-Harper's Magazine

"A remarkable story of a young man's loss of everything he deemed important, his imprisonment in a place that would terrify anyone, and his ultimate discovery that redemption can be taught by society's most dreaded outcasts."
-John Grisham

"A wonderfully bizarre and entertaining memoir of jailhouse redemption—by turns hilarious, astonishing, and, when all is said and done, deeply moving."
-John Berendt, author of Midnight in the Garden of Good and Evil

"Neil White in his luminous memoir IN THE SANCTUARY OF OUTCASTS explicates his own path to redemption. White brings to life a wacky bunch of characters who help him remember what is best about himself. His story is unique and deeply felt: I enjoyed this book immensely!"
-Darcey Steinke author of Easter Everywhere and Milk

"[Neil White] offers a memoir of personal transformation and a thoroughly engaging look at the social, economic, racial, and other barriers that separate individuals that harden, dissolve, and reconfigure themselves when people are involuntarily thrust together over long periods."
-Booklist (starred review)

"Brisk, ironic and perceptive, White's introspective memoir puts a magnifying glass to a flawed life, revealing that all of life is to be savored and respected."
-Publishers Weekly

"White's memoir continues to surprise as it presents a witty, well-rendered narrative of redemption and enlightenment. Readers who enjoy clever, off-beat memoirs will devour this in one sitting."
-Library Journal

"An impressively detailed and unsentimental memoir...funny and straightforward."
-Memphis Commercial Appeal

"An earnest chronicle written with equal parts enlightenment and atonement."
-Kirkus Reviews

"IN THE SANCTUARY OF OUTCASTS is more than a memoir. It's most importantly a testament to the patients at Carville and the life lessons they gave and White took."
-Memphis Flyer

"This memoir represents an atonement persuasively made in an unlikely setting by an accomplished and engaging writer. "
-Richmond Times-Dispatch

"Leprosy and white collar crime in one dynamic book? Neil White, a writer with a multiple mission, knits two fascinating and unfortunate stories into one powerful narrative that is informative, heart-breaking and highly compelling. White writes with clarity, sensitivity and unforgettable passion."
-Lee Gutkind, Editor, Creative Nonfiction magazine and author, Almost Human: Making Robots Think

"A meaningful look at the trajectory of one man's life and his chance to change its direction. Worth reading and discussing...a particularly intriguing choice for reading groups."
-The Mississippi Episcopalian

IN THE SANCTUARY OF OUTCASTS was a rare treat for me as I not only learned about this extraordinary place, only whispered about when I was a child, but, even better, was reminded again of what really matters in this life."
-Robert Hicks, author of The Widow of the South

"At once surreal and grittily naturalistic, funny and poignant, White's tale is fascinating and full of universal resonance. And, not incidentally, White is a splendid writer, adept at both creating a scene and illuminating the human heart. This is a book that will endure."
-Pulitzer Prize–winner Robert Olen Butler

"Narrated in an engaging, affable voice with self-deprecating humor, IN THE SANCTUARY OF OUTCASTS is a great American story of personal transformation that leaves White -- and ourselves -- forever changed."
-Tom Franklin, author of Smonk

"White wastes no time getting to the hurt, and once he takes you there, you'll be riveted. A searing tale of trouble, it's also about finding a time and a place in which to lay the groundwork for a new life. A fine memoir and one I highly recommend."
-Steve Yarbrough, James and Coke Hallowell Professor of Creative Writing Coordinator of the MFA Program English Department California State University
Before you read In the Sanctuary of Outcasts, what did you think of when you heard the word "leper"? Did the book change your impressions?
When he was in the cafeteria, White would eavesdrop on the patients. He heard them call themselves "secret people." Why did they call themselves this? Did the name fit them?
From the time he was a young boy, White's mother told him "you were put here to do great things. Don't ever forget that." How did his mother's attitude shape the man White was both before and after Carville?
White began his publishing career fighting for underdogs and the disadvantaged. What happened to those initial hopes? How can someone else escape the "success" trap that ensnared White and so many others?
"For as long as my children could remember, I had ignored fences and boundaries and rules. Nothing much had prevented me from getting what I wanted, and I made my children know it," White admits. How did this attitude land him in Carville? Do you see a correlation between White's attitude and that of our wider society? How did the two reinforce each other? How did White eventually break free from this kind of thinking?
White came into contact with a variety of diverse characters during his year Carville, including Ella, Link, Doc, Jimmy Hoffa's lawyer, Frank Ragano, Jimmy Harris, Steve Read. Talk about some of these people. What role did they play in White's life while he was there? What did he learn from each of them?
White looked forward to seeing another leprosy patient, Sister Teresa Pazosas. Though the disease had ravaged her nose and fingers, "just being in her presence made me feel light and peaceful," White writes. "I didn't fully understand why she had that effect on me, but I was beginning to feel certain about one thing. Carville was a sacred space." What made Carville a sacred place? Why was White able to see what many of the other inmates could not?
Why was White so drawn to Ella? What was the importance of the Coke bottle story?
How did someone like White who'd "spent my life surrounding myself with beautiful people," find such solace among the disfigured at Carville?
What lessons did prison teach White? There were a number of turning points in his transformation. Map the arc of events that led to his metamorphosis.
How did White's view of his father change after he was at Carville?
While in high school, Neil White took a hard stand on the treatment of inmates. "When I was debating the merits of drug testing on prisoners, I never dreamed that I might someday be one." Why does experience tend to change our opinions or open our minds? Why aren't many people able to empathize with others until they have been in their place, as White discovered in prison?
Before he arrived at the prison, White writes, "I had no idea of the absurdity, complexity, tragedy, and magic that was Carville." Explain how each fits this place, using examples from the memoir.
How did George Plimpton inspire White's ambition to chronicle his time at Carville?
White tried to help the leprosy patients "rebrand" themselves. What suggestions might you have to help them change public perception?
Advertisement