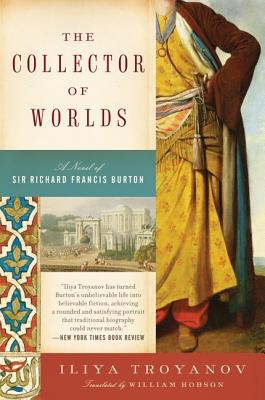 The Collector of Worlds (Paperback)
Ecco Press, 9780061351945, 454pp.
Publication Date: January 19, 2010
Description
"Iliya Troyanov has turned Burton's unbelievable life into believable fiction, achieving a rounded and satisfying portrait that traditional biography could never match."
--New York Times Book ReviewThe Collector of Worlds is a fictionalized account of the infamous life and times of Sir Richard Francis Burton--the British colonial officer stationed in India who made the Haj to Mecca, discovered the source of the Nile, spoke twenty-nine languages, and translated A Thousand and One Arabian Nights and the Kama Sutra into English. The winner of the fiction prize of Germany's Leipzig Book Fair in 2006 and the Berlin Literary Award, The Collector of Worlds is a brilliant re-imagining of a richly eventful, truly incredible life.
Praise For The Collector of Worlds…
"There are novels so finely constructed that they propel you back to the beginning at the moment you reach the end. Instead of closing the covers, you return to the first page with fresh eyes. Iliya Troyanov's 'The Collector of Worlds' is a wonderfully sumptuous example."
-Boston Globe

"I was thrilled by this book. One could compare it to Moby-Dick, narrated in a masterly manner. . . . This is a novel that entertains as well as informs, and this is the best that one could say of any book."
-Günter Grass

"Mesmerizing...the perfect present for wannabe explorers."
-National Geographic Traveler Online

"A rounded and satisfying portrait that traditional biography could never match…Troyanov's novel is itself an act of brave exploration, setting out to chart the unknown and unknowable by filling in the blank spaces of Richard Francis Burton."
-New York Times Book Review
Advertisement