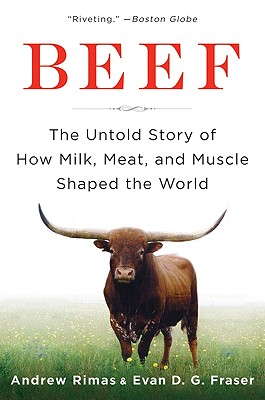 Beef: The Untold Story of How Milk, Meat, and Muscle Shaped the World (Paperback)
The Untold Story of How Milk, Meat, and Muscle Shaped the World
Harper Paperbacks, 9780061353857, 238pp.
Publication Date: October 13, 2009
Description
Andrew Rimas and Evan D.G. Fraser have joined together to tell the remarkable story of the noble cow in Beef: The Untold Story of How Milk, Meat, and Muscle Shaped the World. In the bestselling tradition of Cod and Salt comes a lively history of our ongoing relationship with an animal that we have worked alongside, consumed, and even worshipped for thousands of years. The history of the cow is both surprising and fascinating, and Beef offers a unique overview of cattle yesterday, today, and tomorrow--from adoration to breeding to braising; from ancient Mediterranean bullfight rings to African villages to American stockyards--complete with amazing facts and trivia, wonderful recipes, and an important warning for the future of beef production.
Advertisement