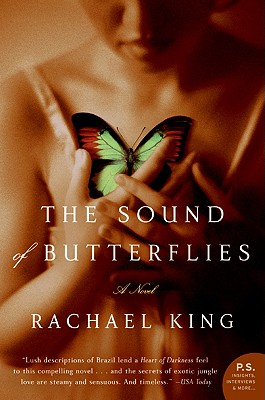 The Sound of Butterflies (Paperback)
Harper Perennial, 9780061357701, 338pp.
Publication Date: November 4, 2008
Description
Sophie Edgar barely recognizes her husband, Thomas, an amateur naturalist, when he returns from the Amazon, where he had hoped to find his long-dreamed-of mythical butterfly, Papilio sophia. The optimistic young Edwardian gentleman is gone, replaced by a weak, nearly mute shadow of the man she married. Unable to break through his heartbreaking silence, Sophie must glean what she can from his diaries and boxes of exquisite butterflies in order to discover what happened to Thomas in the lush and perilous jungles of Brazil. In the process, she learns as much about herself and her marriage as she does about the secrets harbored by a haunted soul.
A magnificent debut, written in rich and sensuous prose, Rachael King's The Sound of Butterflies is an unforgettable journey from the demure gentility of turn-of-the-twentieth-century England into the heart of darkness.
Advertisement