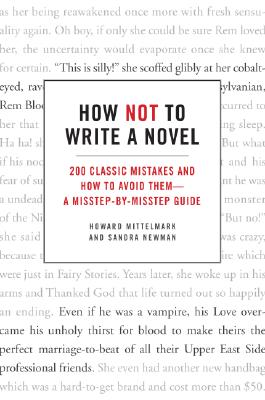 How Not to Write a Novel
200 Classic Mistakes and How to Avoid Them--A Misstep-by-Misstep Guide
Paperback

* Individual store prices may vary.
Description
"What do you think of my fiction book writing?" the aspiring novelist extorted.
"Darn," the editor hectored, in turn. "I can not publish your novel! It is full of what we in the business call 'really awful writing.'"
"But how shall I absolve this dilemma? I have already read every tome available on how to write well and get published!" The writer tossed his head about, wildly.
"It might help," opined the blonde editor, helpfully, "to ponder how NOT to write a novel, so you might avoid the very thing!"
Many writing books offer sound advice on how to write well. This is not one of those books. On the contrary, this is a collection of terrible, awkward, and laughably unreadable excerpts that will teach you what to avoid—at all costs—if you ever want your novel published.
In How Not to Write a Novel, authors Howard Mittelmark and Sandra Newman distill their 30 years combined experience in teaching, editing, writing, and reviewing fiction to bring you real advice from the other side of the query letter. Rather than telling you how or what to write, they identify the 200 most common mistakes unconsciously made by writers and teach you to recognize, avoid, and amend them. With hilarious "mis-examples" to demonstrate each manuscript-mangling error, they'll help you troubleshoot your beginnings and endings, bad guys, love interests, style, jokes, perspective, voice, and more. As funny as it is useful, this essential how-NOT-to guide will help you get your manuscript out of the slush pile and into the bookstore.
Praise For How Not to Write a Novel: 200 Classic Mistakes and How to Avoid Them--A Misstep-by-Misstep Guide…
"The teaching of creative writing just entered a whole new era with the publication of How Not to Write a Novel. Heavens, what a joy this book is…." — Lynne Truss
Authors and editors Mittlemark and Newman identify writing pitfalls in each aspect of novel writing…. A great resource, this tongue-in-cheek guide is a fun read with a lot of solid advice for would-be novelists. — Publishers Weekly
This writing how-to should carry a warning: it's the kind of book one reads at the expense of other responsibilities….a surprisingly distinctive approach within the crowded category of novel-writing guides. — Library Journal
"[A] hilarious, wickedly observed and deeply useful guide." — The Observer, review by Kate Saunders
"Sandra Newman and Howard Mittelmark have produced an invaluable guide." — The Independent
William Morrow Paperbacks, 9780061357954, 272pp.
Publication Date: April 1, 2008
About the Author
Writer and editor Howard Mittelmark's book reviews and essays have appeared in the New York Times, Washington Post, Philadelphia Inquirer, Hollywood Reporter, Writer's Digest, and other publications. He is the author of the novel Age of Consent.
Sandra Newman is the author of The Only Good Thing Anyone Has Ever Done, which was short-listed for the Guardian First Book Award. She is also the author of the novel Cake; the memoir, Changeling; How Not to Write a Novel, an irreverent how-to guide with Howard Mittelmark; and The Western Lit Survival Kit. She lives in New York.