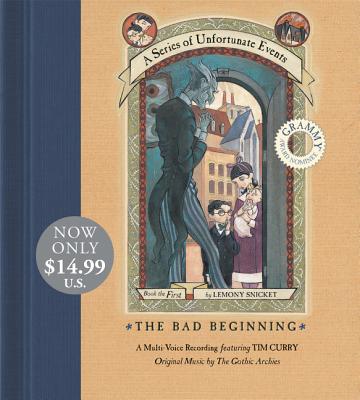 Series of Unfortunate Events #1 Multi-Voice CD, A:The Bad Beginning CD Low Price (CD-Audio)
HarperCollins, 9780061365331
Publication Date: May 22, 2007
* Individual store prices may vary.
Description
NOW A NETFLIX ORIGINAL SERIES
Violet, Klaus, and Sunny Baudelaire are intelligent children. They are charming, and resourceful, and have pleasant facial features. Unfortunately, they are exceptionally unlucky.
In the first two books alone, the three youngsters encounter a greedy and repulsive villain, itchy clothing, a disastrous fire, a plot to steal their fortune, a lumpy bed, a deadly serpent, a large brass reading lamp, a long knife, and a terrible odor.
In the tradition of great storytellers, from Dickens to Dahl, comes an exquisitely dark comedy that is both literary and irreverent, hilarious and deftly crafted. Never before has a tale of three likeable and unfortunate children been quite so enchanting, or quite so uproariously unhappy.
About the Author
Lemony Snicket had an unusual education which may or may not explain his ability to evade capture. He is the author of the 13 volumes in A Series of Unfortunate Events, several picture books including The Dark, and the books collectively titled All The Wrong Questions.
Tim Curry has portrayed many memorable characters, most notably the role of the scientist in the Broadway and film versions of The Rocky Horror Picture Show, and Arthur in the Broadway production of SPAMalot.