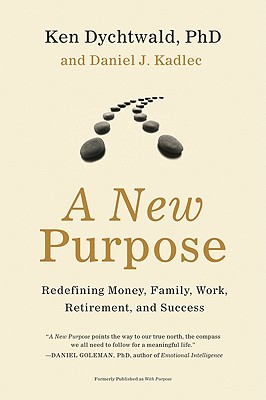 A New Purpose: Redefining Money, Family, Work, Retirement, and Success (Paperback)
Redefining Money, Family, Work, Retirement, and Success
Harper Paperbacks, 9780061373121, 265pp.
Publication Date: April 1, 2010
Description
Happiness in life is about more than what's in your bank account or stock portfolio. Success is more than achieving power and respect. Each one of us has a responsibility for changing the world in a positive, significant, and enduring way--and the challenge is less daunting than you might think.
In this hopeful and motivating book, author Ken Dychtwald shares inspiring stories of people who have made a difference and points us to resources that will enable us to do the same. All it takes is an investment in head, heart, and spirit. For those of us who find ourselves asking, "Now what?" A New Purpose has the answers.
Praise For A New Purpose: Redefining Money, Family, Work, Retirement, and Success…
"Healthy living and modern medicine have given our lives longevity. With Purpose is a guide to making the most of all that time—by making a difference that means as much to you as to the people around you."
-—Mehmet Oz, M.D., co-author of YOU: The Owner's Manual

"Happiness is about more than what's in the bank. Ken Dychtwald lays out the essential components of an all-weather, successful portfolio-with a significant investment in head, heart, and spirit."
-—Lee Eisenberg, author of The Number: A Different Way to Think About the Rest of Your Life

"Ken Dychtwald brings a moral magnificence to the life-enhancing opportunities that lay before us. To read With Purpose is to be charged with the significance of one's commitment to help, to heal, and to make a better world."
-—Jean Houston, Ph.D., author of The Possible Human and consultant to the United Nations in human development

"Here's a thought-provoking and uplifting view of working and learning in the second half of life by one of the world's true experts."
-—Robert B. Reich, Former U.S. Secretary of Labor

"With Purpose is a call to change. It will show you how to use your talents to create a better life for yourself and for the people and causes that inspire you."
-—Robert Butler, M.D., Founding Director of the National Institutes on Aging and Pulitzer Prize winning author Why Survive? Being Old in America and The Longevity Revolution: 2008

"Bringing together powerful stories, sage advice, and important insights, this book reveals a generation poised for its encore, ready to usher in a new era of individual and social renewal."
-—Marc Freedman, CEO, Civic Ventures, and author of Encore: Finding Work That Matters in the Second Half of Life
Advertisement