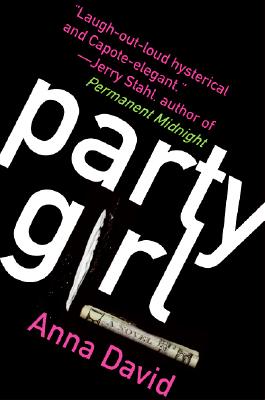 Party Girl
A Novel
Paperback

* Individual store prices may vary.
Other Editions of This Title:
Digital Audiobook (10/31/2018)
Paperback (9/15/2021)
Hardcover (9/15/2021)
Hardcover (5/22/2007)
Description
Celebrity journalist Amelia Stone is the quintessential Hollywood party girl: she stays out late, rubs shoulders (and occasionally more) with celebrities, and ingests copious amounts of cocaine.
But after losing her job, her friends, and much of her mind, Amelia makes the drastic decision to end her drug abuse. Once sober, she's hired by a big-name magazine to write a column detailing her wild adventures and she starts seeing the man who could be her Mr. Right.
There's just one problem. Overnight, Amelia has become the new face of Hollywood nightlife, and her editors—who don't know she's come clean —want her to play the part. As the lure of her former fast-and-furious lifestyle begins to pull at her, she must decide whether to save herself or salvage her reputation as the ultimate party girl.
Praise For Party Girl: A Novel…
"Bridget Jones with a byline, bigger IQ, and substance abuse issues...at once laugh-out-loud and Capote-elegant."
— Jerry Stahl, bestselling author of Permanent Midnight and I, Fatty

"A smart, hilarious, and poignant page-turner that takes you past the velvet ropes and into the Hollywood party scene."
— Cindy Chupack, a writer/executive producer of Sex and the City and author of The Between Boyfriends Book

"An inspirational story—a triumph over the red carpet, instant intimacy with celebs, and an open bar."
— Liz Smith, The New York Post

"Let the prose paparazzo's flashbulbs explode on this stunning debut. Reality fiction never had it so good."
— Rachel Resnick, LA Times bestselling author of Go West, Young F*cked up Chick

"Anna David's Party Girl is acidly hilarious and thoroughly entertaining. A must-read!"
— Melissa de la Cruz, co-author of The Fashionista Files and How to Become Famous in Two Weeks or Less

"A rollercoaster read...The most accurate portrayal of addiction and the nuances of recovery that I have come across."
— Dr. Drew Pinsky, addiction expert and host of Loveline

"Amelia Stone's struggle to transcend the booze and booty-calls makes Sex and the City look like Disneyland."
— Ian Kerner, New York Times bestselling author of She Comes First and Be Honest—You're Not That Into Him, Either

"A hilarious tale of a madcap screwball heroine—Irene Dunn with a Sidekick and a Prada bag full of cocaine."
— Richard Rushfield, author of On Spec: A Novel of Young Hollywood

"This is your brain on Party Girl: Sizzle. Pop. Narrative-as-amyl-nitrate."
— Samantha Dunn, author of Faith in Carlos Gomez

"In Party Girl, readers are lucky to sign on as Anna David's plus-one."
— Tom Dolby, author of Trouble Boy

"David's debut novel combines a candid picture of addiction and recovery with scandalously funny, only-in-LA adventures."
— Redbook Magazine
William Morrow Paperbacks, 9780061374005, 288pp.
Publication Date: May 27, 2008
About the Author
Anna David is the author of the novels Party Girl and Bought, and the editor of the anthology Reality Matters. She has written for the New York Times, the Los Angeles Times, Redbook, Details, and many other publications. She has appeared on national television programs including Today, Hannity, and CNN's Showbiz Tonight.