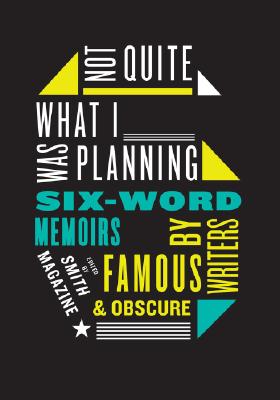 Not Quite What I Was Planning
Six-Word Memoirs by Writers Famous and Obscure
Paperback

* Individual store prices may vary.
Description
Deceptively simple and surprisingly addictive, Not Quite What I Was Planning is a thousand glimpses of humanity—six words at a time.
One Life. Six Words. What's Yours?
When Hemingway famously wrote, "For Sale: baby shoes, never worn," he proved that an entire story can be told using a half dozen words. When the online storytelling magazine SMITH asked readers to submit six-word memoirs, they proved a whole, real life can be told this way too. The results are fascinating, hilarious, shocking, and moving.
From small sagas of bittersweet romance ("Found true love, married someone else") to proud achievements and stinging regrets ("After Harvard, had baby with crackhead"), these terse true tales relate the diversity of human experience in tasty bite-sized pieces. From authors Jonathan Lethem and Richard Ford to comedians Stephen Colbert and Amy Sedaris, to ordinary folks around the world, everyone has a six-word story to tell.
Praise For Not Quite What I Was Planning: Six-Word Memoirs by Writers Famous and Obscure…
"Perfect for the American attention span...Will thrill minimalists and inspire maximalists." — Vanity Fair
"Irresistibly clever." — Chicago Tribune
"The brilliance is in the brevity." — New York Post
"You could spend a lifetime brainstorming." — The New Yorker
"In six words: Gimmicks should always be this fun." — Style.com
"Compulsive reading...as insightful as any 300+ page biography." — Publishers Weekly
"A perfect distraction and inspiration, and a collection that begs to be shared." — Denver Post
"The pithiest of life stories." — O magazine
"A fabulously appealing exercise both for writers and for readers." — Daily Telegraph (London)
"Six-word review: Buy it, keep it in bathroom." — Philadelphia Magazine
"These tiny windows into people's lives are at once addictive and illuminating, challenging and accessible." — Blackbook
"Smith seems to have struck a chord in the current zeitgeist, unleashing a torrent of self-expression not unlike the one launched by Frank Warren when he began inviting people to write their secrets on the back of postcards." — Toronto Star
Harper Perennial, 9780061374050, 240pp.
Publication Date: February 5, 2008
About the Author
LARRY SMITH is an adjunct associate professor of economics at the University of Waterloo and a recipient of the University of Waterloo's Distinguished Teacher Award. During his longstanding tenure, Smith has taught and counselled more than 23,000 students on the subject of their careers, representing more than 10 percent of UW's alumni. Smith has worked with more than 500 teams of student entrepreneurs, advising them as they have created companies of significant size and success across industries as broad-reaching as communications, software, robotics, entertainment, design and real estate. Smith is also president of Essential Economics Corporation, an economic consulting practice that serves a wide range of public and private clients. "Why You Will Fail to have a Great Career," his TEDx Talk based on his experience counselling students, has been viewed by over six million people.
Rachel Fershleiser is SMITH's memoir editor and has written for the Village Voice, the New York Press, Print, and the National Post. Rachel lives in New York City.