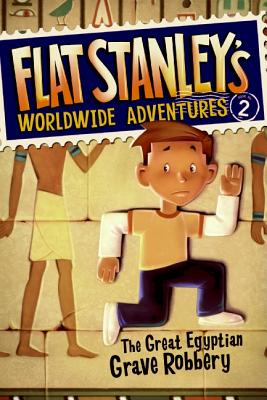 Flat Stanley's Worldwide Adventures #2 (Paperback)
The Great Egyptian Grave Robbery
HarperCollins, 9780061429927, 96pp.
Publication Date: April 21, 2009
* Individual store prices may vary.
Description
There's no place on Earth a flat kid can't go! Join Stanley in his second exciting adventure in the renowned Flat Stanley's Worldwide Adventures series!
Ever since Stanley was flattened by a bulletin board, there are places he can get to that no one else can. So when Stanley receives a letter from an archaeologist, he travels by airmail to Egypt to help find an ancient treasure deep in the heart of a great pyramid. But what if even the flattest boy on Earth can't wriggle out of this dark tomb—and the terrible mess he finds himself in?
Don't miss all of Flat Stanley's worldwide adventures in this chapter book series!
About the Author
Jeff Brown created the beloved character of Flat Stanley as a bedtime story for his sons. He has written other outrageous books about the Lambchop family, including Flat Stanley, Stanley and the Magic Lamp, Invisible Stanley, Stanley's Christmas Adventure, Stanley in Space, and Stanley, Flat Again! You can learn more about Jeff Brown and Flat Stanley at www.flatstanleybooks.com.
Macky Pamintuan is an accomplished artist who lives in the Philippines with his wife, Aymone; their baby girl, Alison; and a West Highland white terrier named Winter.