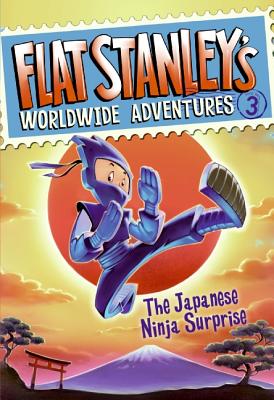 Flat Stanley's Worldwide Adventures #3 (Paperback)
The Japanese Ninja Surprise
HarperCollins, 9780061429941, 112pp.
Publication Date: September 1, 2009
* Individual store prices may vary.
Description
There's no place on Earth a flat kid can't go! Join Stanley on his third exciting adventure in the renowned Flat Stanley's Worldwide Adventures series!
Stanley and his brother, Arthur, are such huge fans of the movie star ninja Oda Nobu that they decide to send him something even better than fan mail—Stanley himself! Soon enough, Flat Stanley is in Japan, seeing the country with his idol. But when trouble surprises them, it will take a real hero to save the day.
Don't miss all of Flat Stanley's worldwide adventures in this chapter book series!
About the Author
Jeff Brown created the beloved character of Flat Stanley as a bedtime story for his sons. He has written other outrageous books about the Lambchop family, including Flat Stanley, Stanley and the Magic Lamp, Invisible Stanley, Stanley's Christmas Adventure, Stanley in Space, and Stanley, Flat Again! You can learn more about Jeff Brown and Flat Stanley at www.flatstanleybooks.com.
Macky Pamintuan is an accomplished artist who lives in the Philippines with his wife, Aymone; their baby girl, Alison; and a West Highland white terrier named Winter.