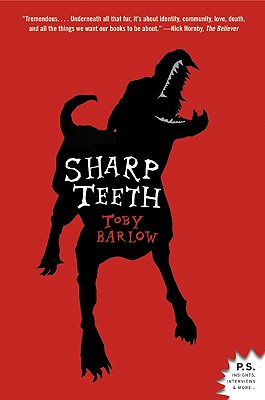 Sharp Teeth (Paperback)
A Novel
Harper Perennial, 9780061430244, 336pp.
Publication Date: January 27, 2009
Other Editions of This Title:
Hardcover (1/29/2008)
Paperback (8/1/2008)
* Individual store prices may vary.
Description
An ancient race of lycanthropes has survived to the present day, and its numbers are growing. Bent on dominance, rival factions are initiating the down-and-out of L.A. into their ranks. Caught in the middle are Anthony, a kindhearted, lovesick dogcatcher, and the object of his affection: a female werewolf who has abandoned her pack.
About the Author
Toby Barlow is executive creative director at the advertising agency JWT in Detroit and a contributor to the literary magazine n+1 and the Huffington Post. He splits his time between Detroit, Michigan, and New York City. Sharp Teeth is his first book.
Praise For Sharp Teeth: A Novel…
"Tremendous.... As ambitious as any literary novel, because underneath all that fur, it's about identity, community, love, death, and all the things we want our books to be about. "
— Nick Hornby, The Believer

"If Ovid had been raised on a steady diet of Marvel Comics, Roger Corman and MTV, he might've written something like Toby Barlow's Sharp Teeth."
— Scott Smith, author of The Ruins and A Simple Plan

"Forget any reservations you might have about werewolf stories or verse novels. This is great, engaging, wonderful stuff. Sondheim should make it his next musical."
— Michael Moorcock

"A sexy, dark and (well, yes) biting story told by a wizard of sleight of hand."
— Gregory Maguire, author of Wicked and What-the-Dickens

"I'm impressed. I always knew stuff like this was going on in L.A. What a cool book!"
— Christopher Moore

"I like this book - lycanthropy indeed begins at home."
— David Mamet

"Romeo and Juliet, werewolf-style."
— Wall Street Journal