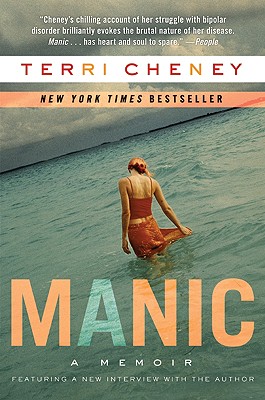 Manic (Paperback)
A Memoir
William Morrow & Company, 9780061430275, 245pp.
Publication Date: February 3, 2009
Description
An attractive, highly successful Beverly Hills entertainment lawyer, Terri Cheney had been battling debilitating bipolar disorder for the better part of her life--and concealing a pharmacy's worth of prescription drugs meant to stabilize her moods and make her "normal." In explosive bursts of prose that mirror the devastating mania and extreme despair of her illness, Cheney describes her roller-coaster existence with shocking honesty, giving brilliant voice to the previously unarticulated madness she endured. Brave, electrifying, poignant, and disturbing, Manic does not simply explain bipolar disorder--it takes us into its grasp and does not let go.
Praise For Manic: A Memoir…
"Cheney's chilling account of her struggle with bipolar disorder brilliantly evokes the brutal nature of her disease...Edgy, dark and often cynical, MANIC is not an easy book to read, but it has heart and soul to spare."
-People

"Written in episodic chapters that mimic the ups and downs of bipolar depression—hypomania, mania, depression—Cheney's book is a gut-churning ride."
-Los Angeles Times

"[a] gritty, vibrant, memoir brings this chaotic frenzy to life...through disaster and despair to end in hope. "
-Peter C Whybrow MD author A Mood Apart

"This is a poignant and compelling memoir ...The writing is outstanding, the story is gripping."
-Dr. Lori Altshuler, Director of the UCLA Mood Disorders Research Program

"Cheney brilliantly brings us along on her haunting and riveting journey of bipolar disorder. ...MANIC is extremely powerful."
-Andy Behrman, author of Electroboy: A Memoir of Mania

"Filled with gorgeous writing...Echoes of William Styron abound."
-Demitri F. Papolos. M.D. and Janice Papolos, authors of The Bipolar Child

"[Manic is] more than a train-wreck tearjerker, the memoir draws strength from salient observations…startlingly lucid descriptions."
-Publishers Weekly

"Cheney...writes with passionate clarity about depression and the lure of suicide but with especially keen intensity about mania..."
-Boston Globe

"Superb...Cheney's remarkable chronicle of her painful odyssey is as eloquent as it is brave. It is also profoundly necessary, both for her and for us."
-Providence Journal

"Amazing and powerful...[MANIC] forces the reader into Cheney's bipolar world, into her deep and fearful depressions mixed with her giddy, high-flying manic moods."
-Orange County Register
Advertisement