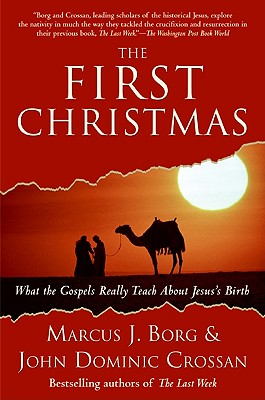 The First Christmas
What the Gospels Really Teach About Jesus's Birth
Paperback

* Individual store prices may vary.
Other Editions of This Title:
Digital Audiobook (5/23/2011)
Paperback (8/21/2008)
Description
"Who could argue with the message the authors draw from the Bible's Christmas stories? Light in the darkest time of the year, hope in a period of creeping despair—these are powerful and universal themes that can give everyone a stake in Christmas."
—USA Today
In The First Christmas Marcus J. Borg and John Dominic Crossan—top Jesus scholars and authors of The Last Week—help us see the real Christmas story buried in the familiar Bible accounts. Basing their interpretations on the two nativity narratives in the Gospels of Matthew and Luke, Borg and Crossan focus on the literal story—the inner truth rather than the historical facts—to offer a clear and uplifting message of hope and peace. With The First Christmas readers get a fresh, deep, and new understanding of the nativity story, enabling us to better appreciate the powerful message of the Gospels.
Praise For The First Christmas: What the Gospels Really Teach About Jesus's Birth…
"With meticulous scholarship and accessible language, "The first Christmas"... uncover(s) the genuine meaning of...the Birth of Jesus." — The Progressive Christian
HarperOne, 9780061430718, 272pp.
Publication Date: October 6, 2009
About the Author
Marcus J. Borg (1942–2015) was a pioneering author and teacher whom the New York Times described as "a leading figure in his generation of Jesus scholars." He was the Hundere Distinguished Professor of Religion and Culture at Oregon State University and canon theologian at Trinity Episcopal Cathedral in Portland, and he appeared on NBC's The Today Show and Dateline, ABC's World News, and NPR's Fresh Air. His books have sold over a million copies, including the bestselling Meeting Jesus Again for the First Time, Reading the Bible Again for the First Time, Jesus, The Heart of Christianity, Evolution of the Word, Speaking Christian, and Convictions.
John Dominic Crossan, professor emeritus at DePaul University, is widely regarded as the foremost historical Jesus scholar of our time. He is the author of several bestselling books, including The Historical Jesus, How to Read the Bible and Still Be a Christian, God and Empire, Jesus: A Revolutionary Biography, The Greatest Prayer, The Last Week, and The Power of Parable. He lives in Minneola, Florida.