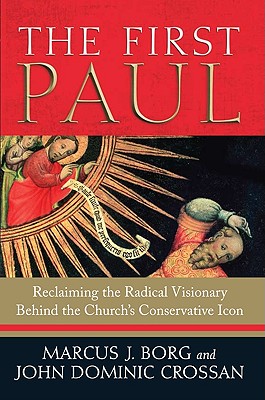 The First Paul: Reclaiming the Radical Visionary Behind the Church's Conservative Icon (Hardcover)
Reclaiming the Radical Visionary Behind the Church's Conservative Icon
HarperOne, 9780061430725, 240pp.
Publication Date: March 3, 2009
Description
"Borg and Crossan reveal a figure who, besides being neither anti-Semitic, anti-sex, nor misogynist, stresses social and political equality among Christians and between them and others. A refreshing and heartening exculpation of a still routinely maligned figure of the first importance to culture and civilization." -- Booklist (starred review)
John Dominic Crossan and Marcus J. Borg--two of the world's top-selling Christian scholars and the bestselling authors of The Last Week and The First Christmas--once again shake up the status quo by arguing that the message of the apostle Paul, considered by many to be the second most important figure in Christianity, has been domesticated by the church. Borg and Crossan turn the common perception of Paul on its head, revealing him as a radical follower of Jesus whose core message is still relevant today.
Praise For The First Paul: Reclaiming the Radical Visionary Behind the Church's Conservative Icon…
"A refreshing and heartening exculpation of a still routinely maligned figure of the first importance to culture and civilization."
-Booklist (starred review)

"Paul is one of the most controversial figures in Christian history—and one of the most misunderstood. . . . Many will be thrilled with this fresh, erudite portrait of the man."
-Publishers Weekly

"In this scholarly and engaging account . . . Borg and Crossan successfully argue that we must separate the genuine writings of the apostle from the writings attributed to him . . . This well-researched and highly readable account is recommended for all students of Paul [and] interested lay readers.""
-Library Journal
Advertisement