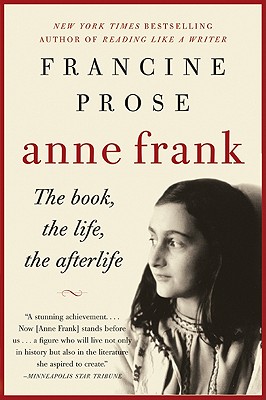 Anne Frank
The Book, The Life, The Afterlife
Paperback

* Individual store prices may vary.
Other Editions of This Title:
Paperback, Large Print (9/29/2009)
Hardcover (9/29/2009)
Description
"A deeply felt reappraisal of the work and its global impact.... [Prose] makes a persuasive argument for Anne Frank's literary genius." —New York Times Book Review
In June, 1942, Anne Frank received a diary for her thirteenth birthday, just weeks before she and her family went into hiding from the Nazis in an Amsterdam attic. For two years, she described life in hiding in vivid, unforgettable detail and grappled with the unfolding events of World War II. Before the attic was raided in August, 1944, Anne Frank furiously revised and edited her work, crafting a piece of literature that she hoped would be read by the public after the war. And read it has been.
In Anne Frank, bestselling author Francine Prose deftly parses the artistry, ambition, and enduring influence of Anne Frank's beloved classic, The Diary of a Young Girl. She investigates the diary's unique afterlife: the obstacles and criticism Otto Frank faced in publishing his daughter's words; the controversy surrounding the diary's Broadway and film adaptations, and the social mores of the 1950s that reduced it to a tale of adolescent angst and love; the conspiracy theories that have cried fraud, and the scientific analysis that proved them wrong. Finally, having assigned the book to her own students, Prose considers the rewards and challenges of teaching one of the world's most read, and banned, books. How has the life and death of one girl become emblematic of the lives and deaths of so many, and why do her words continue to inspire?
Approved by both the Anne Frank House Foundation in Amsterdam and the Anne Frank-Fonds in Basel, run by the Frank family, Anne Frank unravels the fascinating story of a memoir that has become one of the most compelling, intimate, and important documents of modern history.
Praise For Anne Frank: The Book, The Life, The Afterlife…
"Prose is clear-headed, tough, and fair, and her book, though in places immensely sad, is superb. It should be cherished alongside the masterpiece that inspired it."
— Boston Sunday Globe

"Prose admirably recreates the events in the attic over the years—no small feat—[with] all the drama of a classic whodunit…Transcendent criticism…[A] case so brilliantly proven."
— Chicago Tribune

"This is an amazing book…thorough, thoughtfully, beautifully written…[It] focuses on Anne Frank as an accomplished writer…I was thrilled to find it."
— Miami Herald

"Francine Prose...takes Anne's story and adds to it a new perspective....Prose tells this story with tremendous beauty, pathos and a profound awareness of tragic coincidence."
— San Francisco Chronicle

"Prose's book is a stunning achievement…Now Anne Frank stands before us…a figure who will live not only in history but also in the literature she aspired to create."
— Minneapolis Star Tribune

"Illuminating…A compelling story…Francine Prose explains some of the many sides of this remarkable story."
— Washington Post

"Impassioned…compelling…No one has made the case as convincingly and forcefully as Francine Prose does that Anne Frank aspired to be taken seriously as a writer—and should be."
— San Diego Union-Tribune

"Provocative…penetrating…With ANNE FRANK, then, Prose means to remove Frank from the wistful amber of her posthumous celebrity and reveal her to us in a more realistic light."
— Los Angeles Times

"A deeply felt reappraisal of the work and its global impact.... [Prose] makes a persuasive argument for Anne Frank's literary genius."
— New York Times Book Review

"Passionate…A sensitive, beautifully written and fascinating account of the myriad aspects of Anne Frank's life, death and diary"
— Haaretz (Israel)

"A valuable resource…useful and well-written and –researched"
— Philadelphia Inquirer

"Compelling…With compassion and grace, Prose looks at Anne Frank as Anne wished to be seen: above all, as a writer."
— Christian Science Monitor

"Talented author Francine Prose approaches Anne Frank with the awe and respect of one writer for another…Prose's research uncovers what many will be surprised to discover."
— Jerusalem Post

"Substantially researched and wide-ranging…This probing and informed book introduces readers to a far more complex and accomplished young woman than the Anne we met in our adolescence."
— Jewish Book World

"An impressively far-reaching critical work, an elegant study both edifying and entertaining...full of keen observations and fascinating disputes."
— New York Times

"Provocative.... A penetrating analysis."
— Los Angeles Times

"Prose is commanding and illuminating...definitive, deeply moving inquiry into the life of the young, imperiled artist.... Extraordinary testimony to the power of literature and compassion."
— Booklist (starred review)

"A fascinating book...riveting to read..."
— Anne Roiphe, Moment Magazine
Harper Perennial, 9780061430800, 336pp.
Publication Date: October 5, 2010
About the Author
Francine Prose is the author of twenty-one works of fiction including, the highly acclaimed Mister Monkey; the New York Times bestseller Lovers at the Chameleon Club, Paris 1932; A Changed Man, which won the Dayton Literary Peace Prize; and Blue Angel, which was a finalist for the National Book Award. Her works of nonfiction include the highly praised Anne Frank: The Book, The Life, The Afterlife, and the New York Times bestseller Reading Like a Writer, which has become a classic. The recipient of numerous grants and honors, including a Guggenheim and a Fulbright, a Director's Fellow at the Center for Scholars and Writers at the New York Public Library, Prose is a former president of PEN American Center, and a member of the American Academy of Arts and Letters and the American Academy of Arts and Sciences. She is a Distinguished Writer in Residence at Bard College.